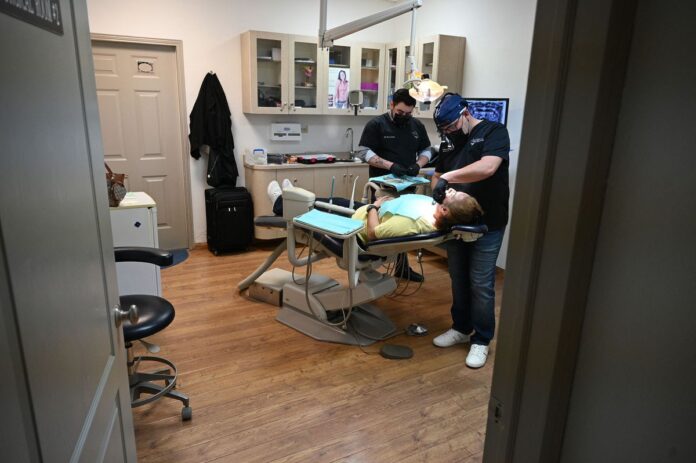 An average of 1.2 million foreign patients travel to the country each year. The majority arrive for dental, ophthalmology or cosmetic surgery treatments.
Mexico has become the second most popular destination for health tourism, with 1.2 million foreign patients a year. It is only surpassed by Thailand, which receives 1.8 million people. Health tourism has become a fundamental pillar of the Mexican economy, generating revenues of up to $3.9 billion, according to Euromonitor data, and attracting patients from all over the world in search of high-quality medical care at affordable prices.
Mexico is particularly known for offering world-class medical treatments in areas such as dentistry, ophthalmology and cosmetic surgery. Several Mexican states stand out as leading destinations in this industry, including Baja California, Baja California Sur, Chihuahua, Guanajuato, Jalisco, Nuevo León, Querétaro, Quintana Roo, Sonora, Tamaulipas, Veracruz and Yucatán.
According to the National Bank of Foreign Trade (Bancomext), the rise in this trend came in the 90s, when visitors looked for quality medical treatments in emerging countries that offered high-level services, but with costs that were much lower than in their countries of origin. "This trend was reinforced during the last economic crisis experienced by the United States, which led its citizens to seek medical care, mainly in Cuba and Mexico, to reduce costs," the entity adds.
Jorge Vargas is a Mexican who has been living in Phoenix, Arizona for more than 30 years. Over the years he has chosen to travel to the northern border of Mexico for various dental treatments. Vargas, who works doing electrical installations on the streets, has health insurance in the United States, but even so, the treatments he requires are very expensive. "If you are going to have a cleaning done here, it will cost you around 400 or 500 dollars. It's a lot of money. A root canal can cost thousands of dollars," he explains by phone call. That is why he has traveled to Nuevo Casas Grandes, Chihuahua, to have different procedures done.
According to data provided by ProMéxico and the Ministry of Economy, there are three key factors that explain the success of health tourism in Mexico: the availability of highly trained doctors and specialists; a modern medical infrastructure; and competitive costs. Patients who choose Mexico as a medical destination can save between 36% and 89% compared to expenses in countries such as the US, France, Germany, Canada and Italy, making Mexico an attractive option for those seeking quality medical treatments without depleting your financial resources.
According to Vargas, who has also gone to Nogales, Sonora, the only thing you can see when crossing the border with the United States are dental clinics. "You go to the border and the only thing there is are dentists. The dentists there also get their health insurance from here, which is why many people go to the border," he adds.
The United States is a key market as it represents around 70% of the income generated by health tourism in Mexico. The proximity to Mexico and the high costs of its healthcare system have led to a steady flow of American patients seeking more affordable medical treatments. Additionally, the wait time for medical procedures in Mexico is significantly shorter than in countries like Canada, where it can be up to three months.
Vargas describes that he preferred to take his daughter to Mexico for orthodontic treatment. "I went to the border every month with my daughter because she had gum surgery. Although it was more expensive, I believe that if we had done it here in payments or on credit, they would still be charging us," he laments.
As the industry has consolidated, the numbers have grown year after year and in 2021 this segment contributed a profit of more than 137 million dollars according to data from the National Institute of Statistics and Geography (Inegi). Mexico has emerged as a world leader in health tourism, providing quality medical care at affordable prices. With a constant flow of foreign patients and constant growth, this sector has become a vital economic engine for the country, boosting the hotel industry and offering a promising horizon in the field of healthcare.
Source: El Pais