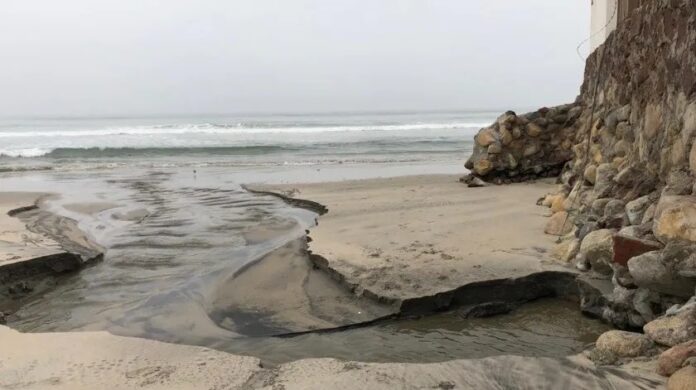 The central beach of Rosarito reaches 1,346 enterococci for every 100 milliliters of water, when the maximum allowed is 20
Rosarito BC.- The sewage that runs into the sea on the central beach of Rosarito will continue, since the repair work is estimated to be completed by the end of next July, informed Víctor Daniel Amador Barragán, director of the State Commission of Public Services of Tijuana, (CESPT).
He explained that this leak, located at the height of the Quintas del Mar subdivision, began last winter in January, because the high waves that occurred damaged 200 meters of pipes, in addition to the collapse of a collector and two manholes.
The official indicated that the high tides have prevented progress with the works, but the contracted company can put the underground pipes and the problem can be solved, in a work that will cost 2.1 million pesos.
He mentioned that the works that are planned aim to ensure that in the event of a similar natural phenomenon, a problem of this type will not be repeated.
Amador Barragán, said that there are no reports of damages presented by the sewage spills due to contamination, since that beach area has been closed by the municipal authorities.
Regarding the sewage spill that also occurs at the mouth of the Huahuatay stream, which is located meters from the problem area, he explained that there are other factors that have nothing to do with CESPT, since other runoffs occur that have to do with ranches and others that discharge directly into the stream and the dependency has no control over that.
FRONTERA has reported the sewage spills that flow out at the height of the Quinta Plaza subdivision and the odors that come from there, in addition to the presence of dead animals, such as sea lions, sailboat jellyfish and even pelicans.
That stretch of beach, according to studies on water quality, issued by COFEPRIS, is the most contaminated in the country, reaching 1,346 enterococci per 100 milliliters of water, when the maximum allowed is 200.
Source: El Imparcial