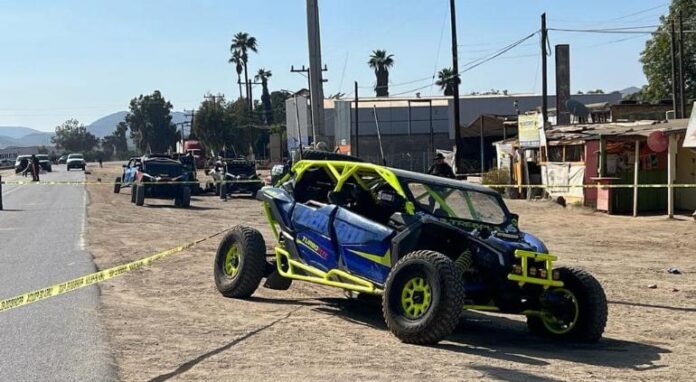 Ten people died and nine were injured in a confrontation between members of organized crime during a rally called "Cachanillazo" in the community of San Vicente, the Baja California Prosecutor's Office reported.
According to official information, people got out of a recent black van and fired long weapons at the runners who were parked at kilometer 90 of the Transpeninsular Highway.
The aggression was repelled and the truck also received bullet wounds.
The events occurred around 2:18 p.m. (local time) and among the people killed is the municipal delegate of San Antonio de las Minas, José Eduardo Orozco Gil, who was participating in the event.
They flirt with a narco attack at a BC rally
The violent events on Saturday the 20th against a group of drivers from a rally in San Vicente, Ensenada, are due to a confrontation between members of organized crime, the Baja California Prosecutor's Office assured.
Ricardo Iván Carpio, State Prosecutor, explained in a statement that at the scene it was found that the car from which the assailants would have fired at the crew members of units known as Razr also has different perforations from firearm shots, and traces of blood inside.
The preliminary information collected by the special unit that carried out the expert reports revealed that it is a black Infinity Qx60 van with tinted windows, which has at least three bullet wounds.
"With these new findings, we can determine that this incident is due to a confrontation between presumed criminals who shot at each other at the event," explained the Prosecutor.
According to the reports of the Municipal Public Security Directorate, at 2:18 p.m., a report was received through the 911 emergency number that warned of firearm detonations, as well as several injured people, in the area of ​​the San Vicente delegation, at kilometer 100 of the Transpeninsular highway.
In that place, the car race for sand roads "El Cachanillazo" was held.
In videos and images shared on social networks, the ravages of the attack are observed, competition ATVs shot and bodies lying next to the vehicles.
In a recording, it is even seen how several men fire with long weapons at one of the participating vehicles for fear of other participants trying to escape.
The Mayor of Ensenada, Armando Ayala Robles, regretted the attack against the group of runners and assured that he is collaborating with the other two levels of government to find those responsible and that justice is done for the families of the victims.
Source.- OEM
Baja California Post