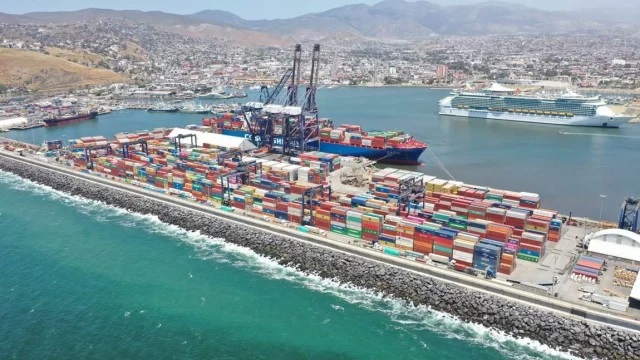 With a total investment of 2,300 million pesos, Hutchison Ports EIT is carrying out an expansion of its terminal in the Port of Ensenada in order to meet the growing demand for containerized cargo in the region.
The container terminal in Baja California has experienced growth in containerized cargo handling since 2014, with an increase of 200%, going from 145,000 TEU (Twenty-foot Equivalent Unit) to 444,000 TEU in 2022. This is largely due to the intense promotion of the company to attract merchandise that normally operated in the ports of Los Angeles and Long Beach.
In light of these successful results, Hutchison Ports EIT has updated its master plan for the EIT Multi-Use Terminal (MUT). This implies the construction of an additional 300 meters of dock for the operation of container ships, 4.0 more hectares of container yard and 80 meters of wave deflection wall, in addition to other improvements in the existing infrastructure.
In February 2017, Hutchison Ports EIT signed an agreement to extend the contract for the partial transfer of rights of the TUM for 20 years. As part of this concession agreement, the company undertook to carry out the investments contemplated in the TUM Master Plan.
The Hutchison Ports EIT dock and yard expansion works began on December 26, 2022 and are estimated to last 22 months.
The project will cover the construction of the substructure, superstructure, electrical installations and accessories of the dock, as well as the creation of land reclaimed from the sea through landfills. Paving works will also be carried out in the new patio areas.
With the incorporation of 4 gantry crane units and 12 RTG units, it will be possible to operate with two container ships simultaneously, which will significantly improve the services, quality and efficiency in the terminal's operation, thus strengthening its position in the market.
In addition, improvements will be made to the soil, construction of perimeter fences, patio lighting, storm drainage, fiber optic installation, wireless network, alarm system and installation of CCTV, among other improvements.
The expansion of the Hutchison Ports EIT pier and yards will allow for a 602-meter pier and 17.30-hectare yard, which will translate into a projected increase in terminal capacity to 565,000 TEU upon completion of the project.
Source: Forbes