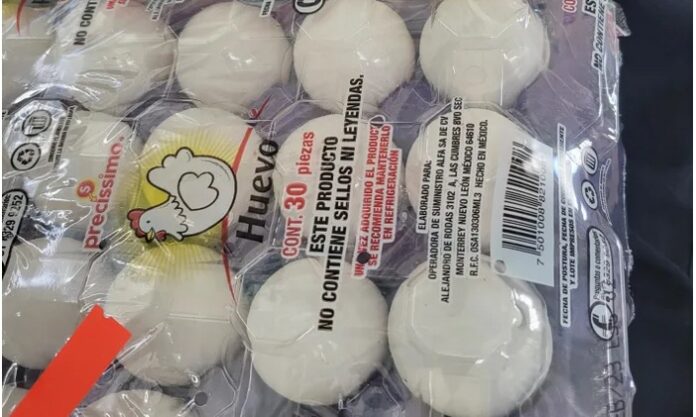 With egg prices spiking 59.9% year-over-year, so have the number of attempts to bring them across the U.S.-Mexico border.
"There has been a large increase in the volume of prohibited food items, such as raw eggs and raw poultry meat, brought by travelers from Mexico. We would like to remind the traveling public that federal agricultural regulations remain in effect," said Jennifer De La O, CBP Director of Field Operations in San Diego, said in a recent release.
Roger Maier, a U.S. Customs and Border Protection Public Affairs Specialist in El Paso, Texas, told Yahoo Finance he's seen a dramatic "increase in people attempting to cross eggs from Juarez to El Paso because they are significantly less expensive in Mexico than the United States."
In the El Paso crossing area alone, the agency reported the number of eggs and poultry seizures rose 108% from Oct. 1 to Dec. 31 of last year.
Under Federal Law, travelers are prohibited to bring certain agricultural products, including eggs and chickens, into the U.S. because they could carry plant pests and foreign animal diseases.
Maier said for the most part, travelers declare the eggs during the primary border inspection only to have them collected and destroyed by officials, usually without penalty. "Typically people are not concealing the product," he stressed.
But those who don't declare what they're transporting can face fines. "When that happens the eggs are seized and the individual has assessed a $300 civil penalty. Penalties can be higher for repeat offenders or commercial-size imports," he said.
Indeed, U.S. Customs and Border Protection Director of Field Operations Jennifer De La O took to Twitter to warn travelers that the fine can be even more —, particularly for those attempting to bring in large amounts to resell. "As a reminder, uncooked eggs are prohibited entry from Mexico into the U.S. Failure to declare agriculture items can results in penalties of up to $10,000."
The USDA says there's relief in sight for egg lovers — and border agents — with inventory on the rise and prices starting to fall.
"During the last week of 2022, inventory sizes started to rise, and prices fell. Going forward, wholesale prices are expected to decrease as the industry moves past the holiday season and continues rebuilding its egg-laying flocks."
—
Source: OEM
---