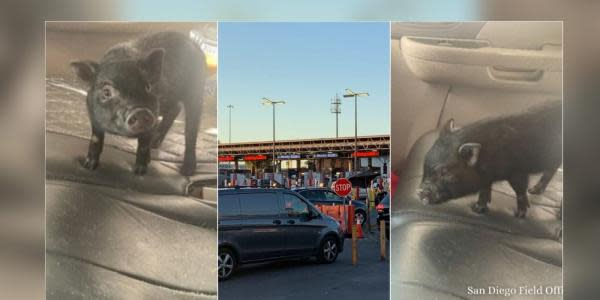 The border crossings from Tijuana to San Diego are full of surprises, some not so pleasant and others that make the Customs and Border Protection (CBP) officers more than smile, as is their most recent case where they had to return to Mexico to a little pig.
According to officials, this happened on September 11 at approximately 08:30 am, when a 63-year-old traveler and his granddaughter were seeking to enter the United States from the Otay Mesa port of entry, presenting their documents, after declaring that had a pet pig inside the vehicle, these were sent for further inspection.
The animal was identified as a black miniature pet pig, which was not allowed entry, CBP agricultural specialists informed travelers that live pigs could not be brought into the United States without the necessary permits from the Veterinary Service; In addition, they must be regulated as cattle to be eligible to enter from other countries.
While many travelers would like to bring pets of different breeds into the US, we need to make sure, from a customs perspective, that we mitigate potential animal diseases coming from other countries… It is unfortunate that some travelers are not able to cross into your pets, but we must follow USDA and CDC guidelines to protect our citizens," said Rosa Hernandez, interim director of field operations for San Diego.
Officials said the little piglet went "wee wee wee" on his way home after he was voluntarily sent back to Mexico. According to CBP, some animals may be detained pending disposal at government expense, while African rodents, bats, non-human primates and civets may not be imported as pets under any circumstances.