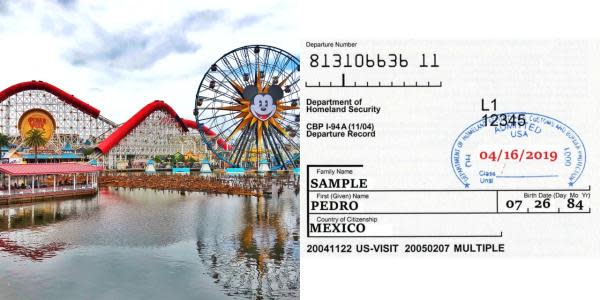 Disneyland California Adventure and Universal Studios Hollywood are on the list.
Last week, the petition was announced by the San Diego, Otay Mesa, and San Ysidro Chambers of Commerce to use a pilot program where Mexican tourists would not need the I-94 permit to travel to Imperial counties, Riverside, Los Angeles, and Orange, if this were to work, then the possibility of eliminating the need to process it would be explored; so in this article, we present 4 amusement parks in California to which you could travel without the need for this permit if the pilot program is approved.
Disneyland California Adventure
This is known as "the happiest place on earth" with great views, games, attractions, food, and characters that both children and adults enjoy visiting, especially at times like Halloween or Christmas.
Knott's Berry Farm
This amusement park with Snoopy, Charlie Brown, and their friends as main characters will allow you to spend a fall weekend like no other at their rides, enjoying their sister sights and taking pictures of yourself in their latest Halloween decorations.
Universal Studios Hollywood
This park full of mysteries and incredible shows is also one of those that you could visit without the need for an I-94 permit, enjoy a magical afternoon in the Wizarding World of Harry Potter or a ride in the disastrous Jurassic World ride.
Six Flags Magic Mountain
Lovers of the extreme are the ones who venture to visit this park, its games full of curves, dangerous falls and non-stop turns are only for the brave now add the great scares that they have prepared for this month of October, can you bear it?
It should be noted that no information has yet been given regarding the approval by the State of California for this pilot test, so it is currently necessary to process your I-94 permit to be able to visit these and other amusement parks that are beyond the limit established by the authorities to travel to the United States.