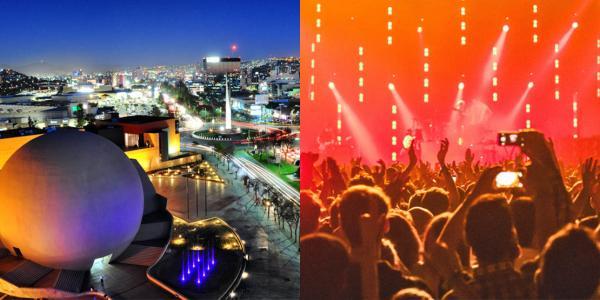 What's so good about Tijuana? These are some of the most anticipated concerts for this week.
Still don't have plans? We will leave you this list with the 5 most important concerts during this week. Are you going to miss them?
1.-Nanpa Basico
Nanpa Básico, is presented to the Tijuana public this Thursday, October 20, starting at 9:00 pm, by Bulldog Productions, with its presentation at El Foro (Old Jai Alai Palace).
Tickets and costs:
Central Floor: $950 pesos
Side Floor: $795 pesos
VIP box: $695 pesos
Side Box: $645 pesos
Club: $595 pesos
Mezzanine: $450 pesos
Mezzanine box: $450 pesos
Terrace: $450 pesos
General: $450 pesos
Tickets can be purchased physically at the Hotel Real Inn (Taquilla 5) and at Black Box, both physically and digitally, through the platform https://arema.mx
2.-Trueno
Argentine rapper singer Mateo Palacios, better known as Trueno, will perform at Black Box Tijuana this Friday, October 21, starting at 8:00 p.m. with his "México Bien o Mal" tour.
Prices:
The event will be for people over 18 years of age, so it will be required to present an official identification when entering the concert. Ticket sales can be purchased physically through Black Box or digitally through https://arema.mx
3.-Los Pericos
The Argentine Reggae and Ska Band Los Pericos will perform at the Black Box Tijuana venue this Saturday, October 22, 2022. Tickets are already on sale. Doors to the concert will open at 7:00pm.
Prices:
Presale $400 pesos
General $450 pesos
VIP $900 pesos and includes Meet & Greet with the band
Tickets can be purchased in person at the Hotel Real Inn, at Black Box and online through the platform https://arema.mx
4.-CECUT 40th anniversary concert
Within the framework of the commemoration of the 40th anniversary of the CECUT, there will be exhibitions, among other tributes, as well as the 2022 theater meeting, the presentation of the play "Alone in the dark", the photographic exhibition "Los Braceros", the premiere of Cuevas Ancestrales in the IMAX dome, and of course the concert of the Única Internacional Sonora Santanera.
The only and international Sonora Santanera, is one of the most important and famous Mexican groups of Mexican tropical music, was founded in 1955 and is originally from Mexico City. It has been popularly consolidated through a unique style influenced by danzón, mambo, bolero, rumba, chachachá, guaracha and cumbia, giving life and emotion to songs that are part of the collective memory of Mexico, some of them They are "La Boa", "Perfume de gardenia", "To many years", among others.
Admission is free.