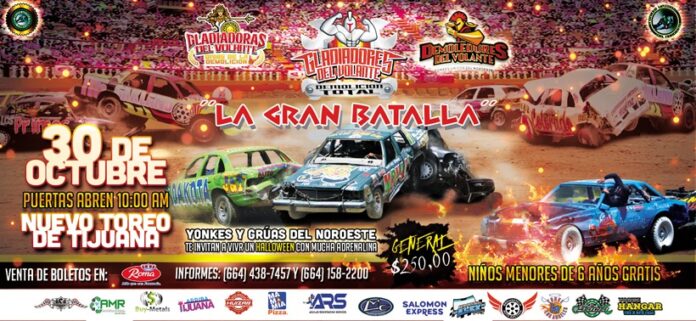 More than 90 Gladiators and Wrecking "LADYS" of the Steering Wheel, The "Wrecking Kids" and many more surprises-
The world of entertainment has no borders and many times they are with things that are difficult to explain, also, among the wide range of events that we can attend to have a good time, are the "car fights", where ' Motorized Gladiators', 'Wrecking Lady at the Wheel' and 'Kids Wrecking' prepare to give a show full of destruction and adrenaline.
Yonkes and Grúas del Noroeste invites all lovers of this extreme sport to its 7th edition of "Total Demolition", where you can participate and attend its competitions in a 100% family atmosphere, full of action and adrenaline. Especially since there will be a fight between The Gladiators VS The Wheel Demolishers, officially calling this event "The Great Battle".
The event will take place at the Nuevo Toreo de Tijuana on Sunday, October 30, 2022, starting at 10:00 am. Remember that you can now buy tickets for 250 pesos at Roma Pharmacies, children under 6 years old are free.
For more information, by phone or WhatsApp
(664) 438-7457
(663) 158-2200
Event Rules:
100% Family Event
not tents
No pets
No coolers
No Drinks
No food