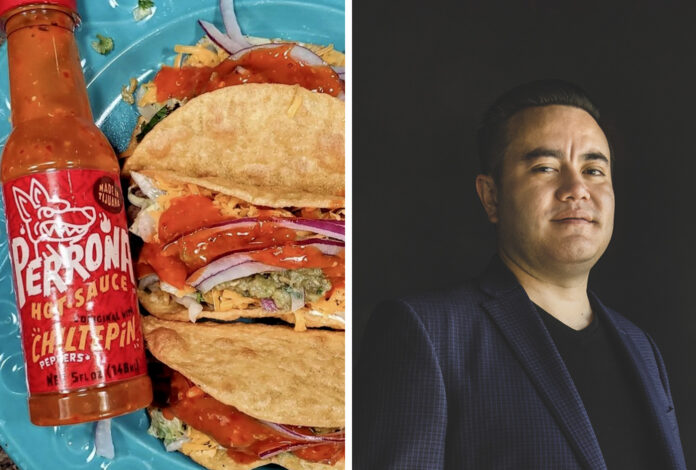 The recipe for La Perrona was created in 1960 by a family that owns a small grocery store in the city of Tijuana. Today it seeks to conquer the hearts of the entire country through retail.
Tijuana gave the world the Caesar salad and now it also seeks to offer La Perrona, a spicy sauce made in an artisanal way from the emulsion of chiltepín, habanero, other chilies, 26 spices and condiments from all over the planet.
The secret recipe was born 60 years ago by the Naranjo family, owners of a small grocery store, where the sauce was prepared as a seasoning for snacks. Then it was inherited by the following generations, until in 2014 Luis Naranjo, grandson of the creators, decided to package it and market it as La Perrona to take it to more homes.
Currently, this hot sauce from Tijuana has four presentations: Chiltepín (ideal for snacks), Habanero (for roast beef), Green Habanero (for hamburgers), and Black (for seafood). It is distributed in more than 4,500 points of sale; It is in all supermarkets in Baja California, Baja California Sur, Chihuahua, Colima, Sinaloa and Sonora. In addition, this month it began to be sold in all Walmart units in the country.
Pursue a dream with La Perrona sauce
Luis belongs to a family of entrepreneurs. His parents founded Wicho's seafood tacos & cheves, a Baja-style restaurant, where he started working when he was 14 years old, and he says that since then he dreamed big. "My father taught me that we must always believe in our dreams and do everything possible to achieve them. One of them was selling a product of mine in supermarkets. Today, thanks to the great team and my family, we have achieved it", he comments.
He acknowledges that although he is the one who started the La Perrona company, his whole family has participated in the business. His father, with his advice and experience; his mother, with her feminine touch and great seasoning, and his sister, with her creativity.
Although he studied industrial engineering and has certifications in Green Belt Six Sigma and Lean Manufacturing, Luis has always been most passionate about business. He remembers that there were days when he spent up to 16 hours in the restaurant, helping with the daily chores or focusing on sales. His commitment was such that in 2007, when he was 28 years old, he took over the entire establishment and was able to multiply it by opening two other units, plus a food truck.
Thanks to Wicho's, he began to position his sauce among customers. Luis attributes this to the fact that it is made with an artisanal process, made at home, since it has the perfect balance between thickness, flavor and itchiness.
"La Perrona is like Tijuana: a mix of culture and diversity, it integrates ingredients from everywhere, like the chiltepín, from Sonora; the habanero, from Yucatan, and various spices from around the world. It is a risky product built with tenacity and work", he says.
The brand has strong local roots, explains the entrepreneur. "I think it's a very cultural thing. What is very well done or that tastes very good is something perrón. The name was born from the same comments that people made about the product; They said: 'Give me that little sauce, the spicy one, the one that is very spicy'."
A very local image
The image of the brand also has a very local aspect, but Luis comments that the acceptance has been high throughout the world. "Locally, the first division soccer team is represented by a xoloitzcuintle dog, a feature that associates our product with the fans and creates a sense of belonging."
The story began with 500 pesos and the kitchen of Luis's mother's house. There, together with his father and a friend of his, they locked themselves in to make the sauce with two blenders and the ingredients. "I've always been very self-taught and when I get passionate I don't stop," he says.
He confesses that he watched many YouTube tutorials to learn about packaging processes and about natural preservatives.
To come up with the exact recipe to make the sauce in large batches, he says he worked nonstop for more than a week. She was so passionate about the idea that he was even with his blender in the office, where she did administrative and accounting work for the restaurants.
Later he settled in an accessory in his mother's garage, which became his warehouse and production center. She was going to be there for three months and three years passed. From there, she supplied the product to some fishmongers and consumption centers, her new clients. In two years it generated employment for six people, the third was already 12, the fourth 20 and the fifth 37.
Learn on the go
Luis already had the recipe and customers looking for his product and buying it, but something was missing and he had to withdraw it from the market. The reason: he did not comply with the bar code or with the health and labeling regulations that a product for human consumption requires to be on the shelves.
"A lot of product that was already placed on the market had to be withdrawn until all requirements were met. What I learned? That no matter how simple everything seems, we must contemplate even the smallest detail, and more so when it comes to consumer products", he says.
La Perrona already has all the regulations to operate, market and validate that the product is suitable for consumption. Luis says that he has his "secret recipe" room. He assures that he loves the subject of standardization, that he has already mastered the production processes well and that his recipe is protected as an industrial secret.
The plant currently operates a semi-automatic system and three shifts work there. The production capacity is 35,000 bottles per week, so it has no problems with distribution from Walmart.
But before arriving with that giant, the first chain to believe in La Perrona was Smart & Final, from Baja California, which has units in Tijuana, Ensenada, Mexicali, Rosarito, San Luis Río Colorado and Tecate. Later, Comercial Mexicana, Calimax and HEB.
Repel the sharks
Two and a half years ago, prompted by a friend, Luis signed up to participate in the television program Shark Tank Mexico. "Before I went I did a very good job of researching the program and each shark ." Rodrigo Herrera, Arturo Elías Ayub, and Carlos Bremer wanted to invest in their product. To the surprise of many, the entrepreneur rejected the offer. The reason was that they wanted 49% of the company.
From that moment, La Perrona began to receive offers from more retail chains. Oxxo, 7-Eleven, and many others looked for him. Thanks to that, he was able to enter Chihuahua and even ordered from Los Angeles. "I realized that it wasn't ready to export yet," he confesses. However, late last year he began shipping to one of Southern California's leading self-service chains, Northgate Gonzalez Market.
Throughout his life as an entrepreneur, Luis has founded other restaurant concepts in San Diego and Bonito, California, and has been part of business associations such as Coparmex, where he served as vice president of the Youth Commission. He stresses that he never stops learning.
For this reason, last year he participated in the BlueBox Ventures accelerator program. Thanks to him, Luis did an exhaustive review of his financial statements and realized that with some adjustments, savings and reinvestment he could build a new production plant that opens this month. He is also working on consolidating a multidisciplinary team that allows him to structure a new business scheme to go from a family business to a corporate one.
Now it will focus on positioning itself in the national market through Walmart. The strategy, so far, has been investment in social networks. So much so that last year he was the winner of the Audience Award category of the Entrepreneur Mexico Award 2019 powered by Facebook, thanks to the large amount of support he registered on the social network.
It is about to launch new flavors and a new powder presentation in the north of the country. By 2021, its goal is to consolidate the communication and sales channel in southern California, in the United States. Later, during the next five years, the plan of this entrepreneur is to introduce his product in the Asian and European continents.
For Luis, learning and growth have no limits: "There is always a way to do it."
Source: emprendedor.com