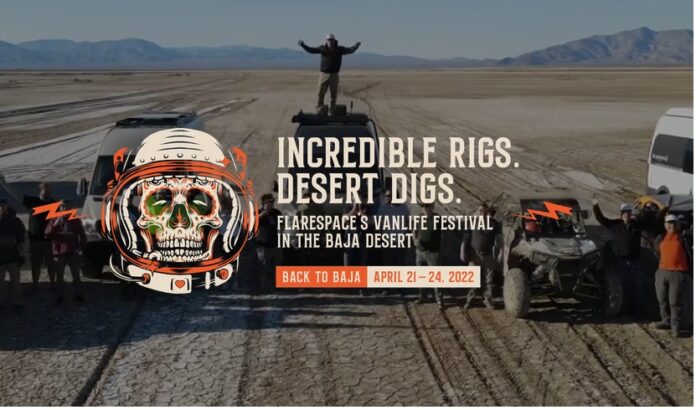 A 3-night, 4-day event inspired by an Expats' recent trek to Baja with a group of friends from Flarespace. The experience was so incredible that they have decided to invite all members of the adventure van family!
Get ready to live out this unforgettable trip with other van adventurers – get your tickets Back to Baja with Flarespace in 2022.
The event takes place 36 kilometers west of San Felipe and 3 hours south of the border, at Laguna del Diablo, Baja California, Mexico.
This unique location is at the base of Picacho del Diablo, the highest mountain in Baja – a location totally off the grid, but worth the journey.
This event is for the adventure enthusiast looking for a unique destination to gather for unique experiences, sport, local food, and an unforgettable time.
Take the journey south in your van, RV, motorcycle, or anything on wheels. All are welcome! You can even bring a tent to camp & lay underneath the stars; the choice is yours.
No matter your transportation or sleep style, you'll be in good company!
Flarespace is giving back to the town of San Felipe – the newly appointed seventh municipality of Baja California.
Back to Baja will provide the city with new stadium lighting for their local sports fields and industrial equipment, supporting San Felipe's mission to maintain and accelerate its infrastructure projects.
At the heart of the event, you'll find El Centro – a space dedicated to gathering. There, you will enjoy local cuisine, cocktails, nightly bonfires, and live music.
El Centro will be your meeting point for all activities throughout the weekend and be the location for the VIP tent. Entertainment at El Centro is complimentary, but all food and beverage must be purchased a la carte and cash only.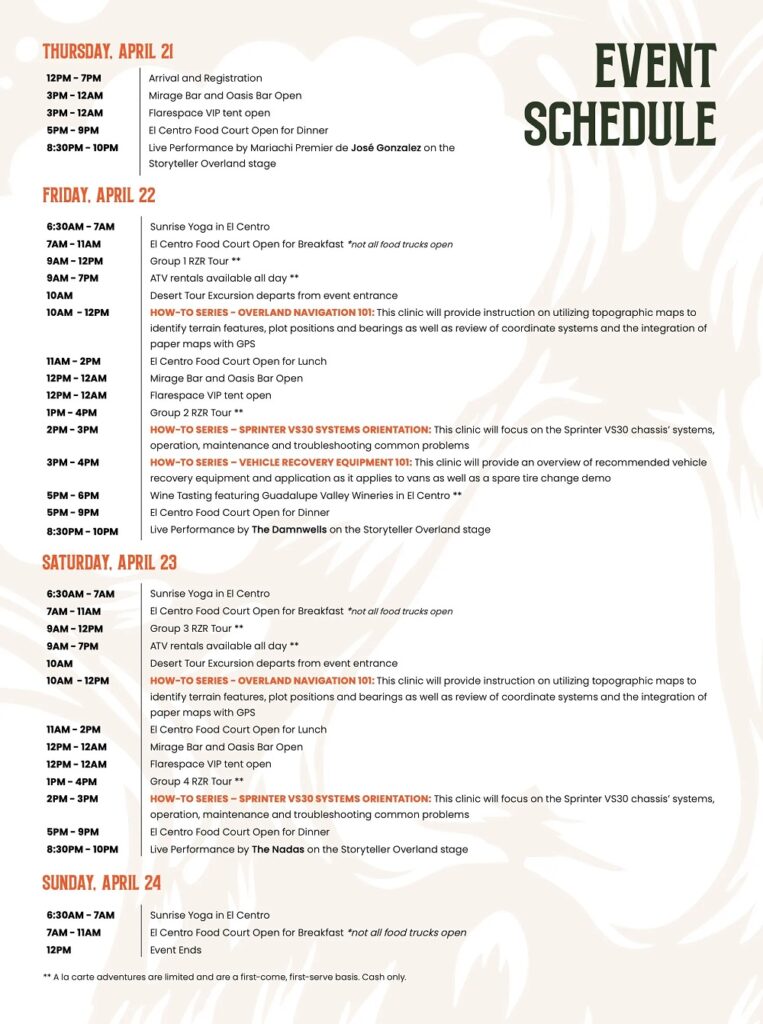 Each evening, starting at 8:30 pm, we are bringing live performances to the El Centro Main Stage. Our weekend kicks off with a classic mariachi band, a nod to our incredible host location, and then Friday and Saturday feature indie rock bands that are well known in the van community.
Listen to great music, with a cocktail in hand, under the moon, and amongst great friends. It doesn't get better than that.
Source: Flarespace