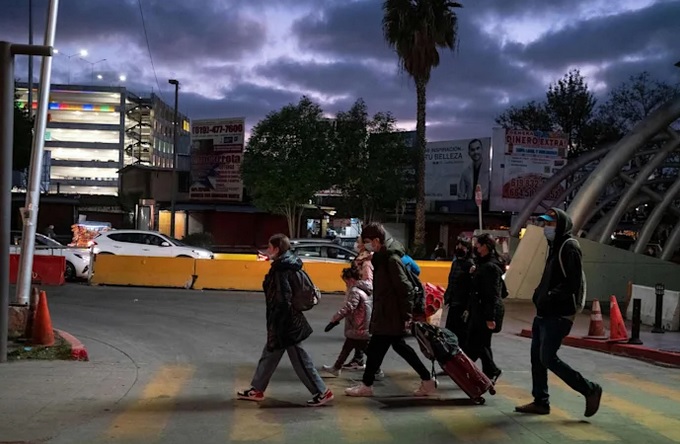 TIJUANA, BAJA CALIFORNIA.- A Ukrainian woman named Sofiia, and her three children were finally allowed to cross the United States-Mexico border near Tijuana on the morning of March 11. It was their third attempt to seek asylum in the U.S.
The border agents that had denied Sophia and her children had cited Title 42, an obscure and controversial public health rule that allows U.S. officials to circumvent the normal trappings of immigration procedure, including asylum interviews. Lawyers with the Center for Gender and Refugee Studies at UC Hastings eventually helped clear their way.
Migrant advocates say Sofiia and her family's struggle has directed a spotlight on the Biden Administration's embrace of Title 42, which has been the subject of an ongoing lawsuit against the U.S., at a time when a growing number of Ukrainians and Russians are attempting to request asylum.
According to a TIME analysis of CBP data, the number of encounters between U.S. border agents and Ukrainians and Russians at the U.S.-Mexico border increased 753% between FY2020 and 2021. In FY22 so far, the number of Ukrainians and Russians encountered at the border has already surpassed the previous two years, with the most significant uptick happening in the last six months, as Russia's threats against Ukraine increased. CPB has not yet provided data for February or early March, making it difficult to more precisely track the influence of the Russian invasion.
A surge of Russians and Ukrainians at U.S. borders
It has been a grueling two weeks for Sophia and her family. Around Feb. 27, days after Russia launched its military invasion of Ukraine, Sofiia and her children fled their home, drove to Moldova, then Romania, and then flew to Mexico City. Immigration experts say it's likely she chose this pathway because most Ukrainian passport holders don't need a visa to arrive in Mexico by plane; a visa is required to arrive in the U.S. From Mexico City, Sofiia and her kids drove to Tijuana, hoping to cross into the U.S. to stay with family members in California while they awaited their asylum hearing. The desperate family, which had been denied twice, was awaited by a crowd of reporters when they crossed onto U.S. soil.
Source: Excelsior