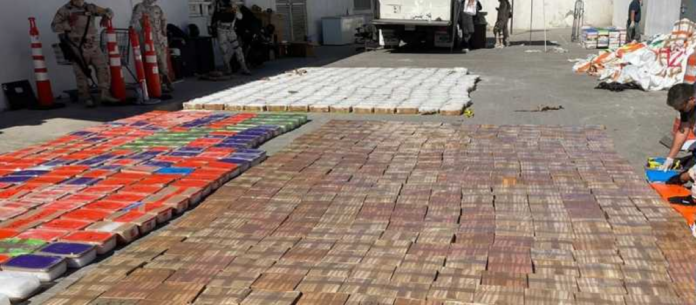 Elements of the Mexican Army seized more than three thousand kilos of six types of drugs and weapons in the municipality of San Felipe.
A report from the Attorney General's Office (FGR) indicates that there are approximately 860 kilos of marijuana, 2,750 kilos of methamphetamine, six kilos of heroin, one kilo of opium gum, 16.5 kilos of fentanyl tablets, and 6.7 kilos of cocaine or possible fentanyl.
In addition, four Ak47, a 5.56 caliber rifle, 21 magazines of various calibers, two bulletproof vests, and a US-made fragmentation grenade were seized.
The insured was made available to the FGR delegation in Mexicali, which will determine the exact amounts of the drug.
The confiscation of various vehicles was also achieved, among them, a GMC Sierra pick-up; another Chevrolet Silverado pickup as well as a Chevrolet Suburban.
Everything insured was made available to the Attorney General's Office based in Mexicali, BC
With actions like this, the Mexican Army reaffirms its loyalty and commitment to the people of Mexico and the population of Baja California, in the fulfillment of the missions entrusted to the Secretary of National Defense for the benefit of the communities located throughout of the national territory and in support of the civil authorities in charge of maintaining order, surveillance and security in the country, reads the statement.
For The Latest Mexico Breaking News, News in English, Living, Working, Investing, or Retiring in Mexico Please Join and Share our Page Click Here
Source: riodoce.mx, lavozdelafrontera.com.mx