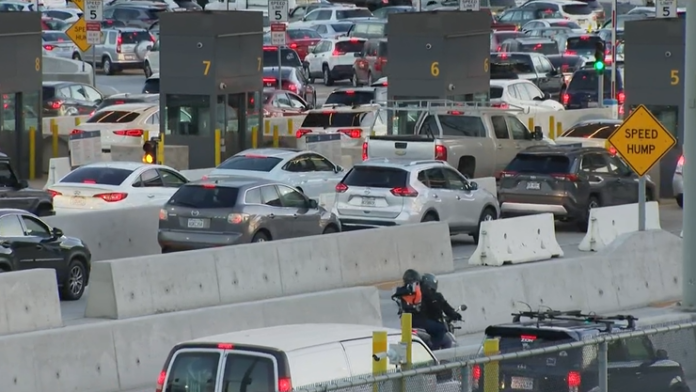 The Smart Border Coalition says the delays are due to a number of different issues.
SAN DIEGO — Long lines at the U.S.-Mexico border are getting even longer, becoming a daily problem for hundreds of cross-border communities, including San Diego County and Tijuana residents.
People who live in Tijuana say the crossing time to get back into Mexico is lengthening their commute.
"That's creating a lot of uncertainty in travelers," said Joaquin Luken, executive director of the Smart Border Coalition.
More than 140,000 people cross the U.S.-Mexico border every day — more than 40,000 cross by car. In recent weeks, many drivers have grown frustrated with how long they're waiting to go back into Mexico.
"We normally talk about wait times being a northbound issue, but the recent few months it's been a southbound issue," said Luken.
Luken says one of the main reasons for the delays is infrastructure changes on the Mexican side that's forcing the army to shut down lanes.
"In peak hours we did see six or eight lanes out of the 20 which is a big, big reduction," he added.
CBP vehicle inspections heading southbound and bridge repairs in Tijuana are adding to the delays, according to Luken.
He adds that the wait times have created a new pattern for people crossing and it's affecting cross-border business.
"Before we had the conventional shopper that just came and did his or her shopping. Now if you're crossing the border, you're really having a really good reason to cross. You're inhibiting commerce instead of promoting commerce," said Luken.
The influx of San Diegans living in Tijuana is also contributing to overall long wait times. Luken says many have moved because of the high cost of living in San Diego.
Luken says he expects to meet with the customs administrator in Tijuana soon to find out how long people can expect the delays to continue.
CBS 8 reached out to CBP officials, but have not heard back.
Source: CBS 8