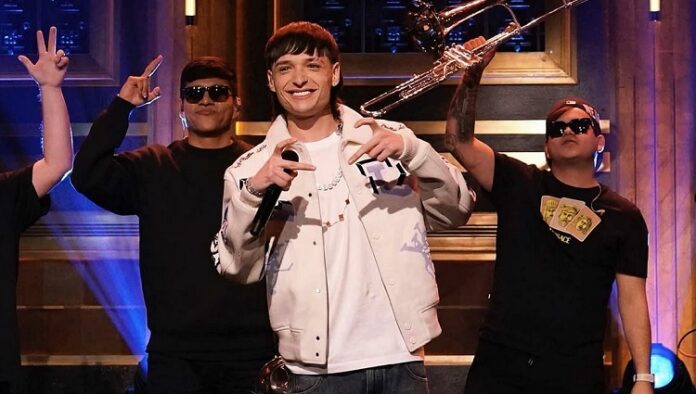 The post-Mexican Singer Peso Pluma Threatened by Cartel Ahead of Tijuana Concert appeared first on Consequence.
Breakout Mexican singer Peso Pluma has received death threats from members of a major cartel ahead of his October 14th concert at Estadio Caliente in Tijuana.
On Tuesday, September 12th, a banner signed by the Jalisco New Generation Cartel was found on a bridge in La Isla subdivision of Tijuana. "This goes to Peso Pluma, refrain from presenting yourself on October 14, because it will be your last show due to your disrespect and loose tongue, you show up and we are going to (break you)," the newspaper's translation reads.
Local news outlet Punto Norte reports that a total of four banners have been placed on bridges across the city. Police arrested a 43-year-old man who was in possession of one of the banners.
Peso Pluma broke out earlier this year with "Ella Baila Sola," a collaboration with the group Eslabon Armado that became the first regional Mexican song in history to reach the Top 10 of the Billboard Hot 100. In addition to being credited for being a major contributor to the revival of traditional Mexican ballads known as corridos, Pluma is known for singing a contemporary, hip-hop-influenced take on the style called corridos tumbados, as well as narcocorridos, a subgenre dedicated to drug traffickers.
It's been rumored that Pluma has dedicated multiple songs to the Sinaloa Cartel, including "Gávilan II" from his breakthrough 2023 album, Génesis. The Jalisco New Generation Cartel is considered by the Mexican government to be the second most powerful drug cartel behind the Sinaloa Cartel.
Pluma performed at the 2023 MTV VMAs on Tuesday night, but recently postponed dates on his US tour in Wisconsin, Illinois, and Indiana due to "unforeseen circumstances."
Sources: Consequence / Punto Norte
---