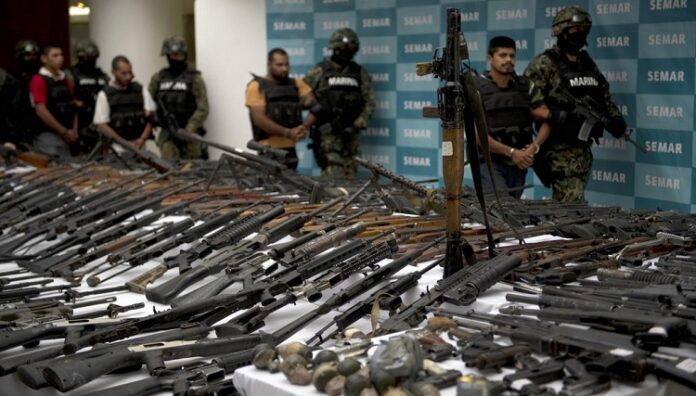 The different cartels operating in Mexican border cities are setting up their own "intelligence centers" equipped with cameras, communications, and a rudimentary dispatch office from where they send information gathered by their cameras, lookouts, or sources to their operators.
Criminal organizations like the Sinaloa cartel or the Jalisco New Generation cartel are setting up proper "intelligence bunkers" from where they keep a tight watch on authorities, citizens, and "enemies" along the U.S.-Mexico border, according to Mexican officials and cartel members speaking with Fox News Digital.
In July, the local authorities of the Mexican border city of Tecate, Baja California, found over a dozen "illegal security cameras" around the city allegedly owned by the Sinaloa cartel.
"After an investigation, we found these cameras didn't belong to any of the city or state security forces and decided to remove them in an attempt to combat the criminal organizations operating here," Tecate's chief of police, Leopoldo Tizoc Durán, said in a press release.
In Tijuana, the cartel pays a monthly rent to home or business owners to install security cameras on their properties, according to a Sinaloa cartel operative speaking with Fox News Digital anonymously.
"We pay from 500 pesos to 1,000 ($25 to $50) for installing a couple of cameras around their property," the operative said. "Those images go straight to a safe house where we have people sending out reports."
The cartel receives screenshots or clips via WhatsApp on private groups of cartel operatives regarding rival cartels or members of a police force entering a city or a neighborhood.
Mexican marines escort five alleged drug traffickers of the Zeta drug cartel in front of an RPG-7 rocket launcher, hand grenades, firearms, cocaine, and military uniforms seized by alleged members of the Zetas drug traffickers cartel and presented to the press on June 9, 2011, at the Navy Secretaryship in Mexico City.
"This is also how we find people easily around a city. When someone owes us money or a rival is hiding, it doesn't take too long for his face or vehicle to pop up on one of these cameras," the operative said.
Authorities in border states like Baja California and Sonora are seizing illegally installed security cameras mostly at border cities' main highways, but according to a Tijuana state police official who asked to remain anonymous, the cameras installed on private property are still operating.
The security cameras draw power from electric lines over the city's streets and are connected to the internet, according to officials.
"We can't remove those cameras that easily, we need an order from a judge to enter the property and uninstall those cameras that we know are owned by the cartels," the official told the local press.
Click here to read the complete original article on YN
Source: YN
---