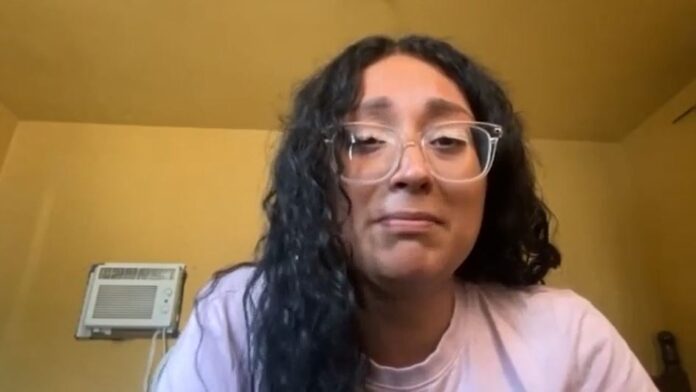 HOUSTON, Texas (KTRK) — As a 14-year-old starting his freshman year in high school, Gerardo Garza Jr. already has plenty to worry about. But now, he's going through all those back-to-school challenges without his mom by his side.
"I really do miss my mom, and I just want her back," Garza said from the southeast Houston home he shares with his parents. But these days, it's just father and son.
"It's been really hard," mom Claudia Gonzalez said, only seeing her family via Zoom. "There were times when I got messages in the night, telling me, 'Mom, I miss you, I want to see you.'"
Gonzalez came to the United States years ago as an unaccompanied minor. She received her DACA status in 2017, and since then, has been going through the process of obtaining legal status. Both her husband and son are citizens of the United States.
In June, Gonzalez traveled to Juarez, Mexico, believing this was her final interview before obtaining a visa. However, an unknown discrepancy in her paperwork led the interview officer to deny her visa and subsequently ban her from the U.S. for 10 years.
"We thought we were really prepared. We thought we got everything," Gonzalez, who is currently living with her mother and other relatives in Mexico, said. "But I don't know where we missed. What happened along the way?"
Desperate for help, the family reached out to ABC13, who then reached out to their congresswoman, U.S. Rep. Sylvia Garcia, D-Houston. She quickly agreed to meet with the family at their home, visiting with the teenager, his dad, and Gonzalez via Zoom.
"I'm carrying what's called the 'Dream and Promise Act' to make sure that we provide the DACA protections for the 600,000 Dreamers like you," Rep. Garcia said to Gonzalez.
The congresswoman explained that her bill actually has several Republican supporters, and she is prepared to work over multiple sessions to shepherd its passage.
"This family's story is no different than so many others, and it's tragic. It's bureaucratic, cruel on families who are trying to follow the law, who are already certified under DACA, who are still in legal limbo," the congresswoman said.
Until she was forced to stay in Mexico, Gonzalez had worked for several years as the front office clerk at Martinez Elementary School in Houston's Pleasantville neighborhood. However, she was much more than just a clerk.
"Claudia is usually the first person we'd see when we come in because she's right there at the front office," Andrew Roberts, a special education teacher at the school, said. "Over her years at our school, she got to know families really well. She really cared for our students but our families, too."
Roberts said fellow employees have donated clothing, money, and sent words of encouragement, hoping Gonzalez can return.
"She makes our country better," he said. "It's hard to imagine she has been identified as someone who can't come back."
Gonzalez is trying to stay upbeat, thanking Rep. Garcia via Zoom.
"I feel so grateful. I feel super blessed. I see it happening with other people, but you never think it will happen to you. It's a privilege to see her there sitting at my house," Gonzalez said.
"We're going to work on it," Garcia said as she hugged Gerardo Jr., who had tears in his eyes. "You have my word."
Source: ABC 13