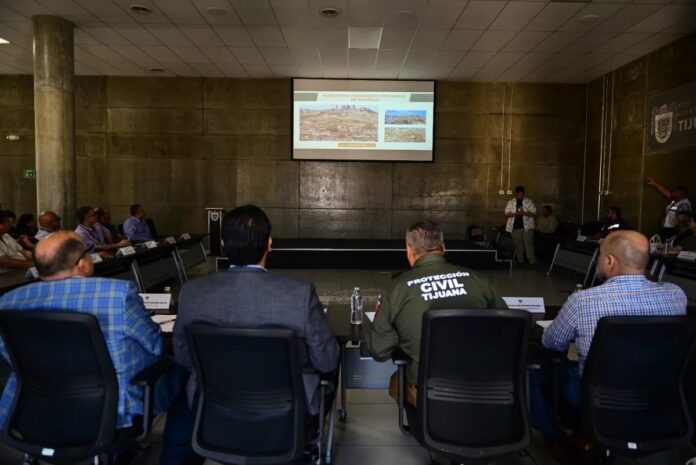 The Tijuana city council declared a state of pre-alert for the passage of Hurricane Hilary 
Temporary shelters will be set up; heavier rains are expected on Sunday, authorities said 
The city of Tijuana declared a state of pre-alert for the arrival of Hurricane Hilary in the border region. With this, all government areas will be attentive to attend incidents that could be registered in the coming days as a result of this, it was reported in a statement.
The municipal council of Civil Protection made the declaration this Thursday, and it was reported that Hilary is expected to hit Tijuana over the weekend, starting with rain on Saturday night.
Authorities hope that the rains will gain more force on Sunday morning with an estimated fall of 34 millimeters and acquiring greater intensity starting at night.
This condition will also bring winds of up to 45 kilometers per hour, for this reason authorities asked to be attentive to the possibility of falling poles, trees, spectacular or others.
The rains are expected to continue through Monday throughout the day, although there could be isolated showers and some winds, authorities said.
Hilary strengthens to a Category 3 hurricane in the Pacific, but still far from the coast of Mexico
Storm Hilary became a hurricane on Thursday in the southern Mexican Pacific and, although it remains offshore and moving parallel to it, it is rapidly increasing in strength and is expected to approach the Baja California peninsula during weekend.
It was also reported that temporary shelters will be activated in the Tijuana Sports Unit, CREA Sports Unit, Mariano Matamoros Sports Unit, Salvatierra Sports Unit and as a primary care space, the facilities of the System for the Integral Development of the Family (SDIF).
The governor of Baja California, Marina del Pilar Ávila sent a message to the population through a video on social networks. "Do not leave home if it is not necessary, check the conditions of your home and if you need it, together with the municipalities we will have a network of shelters for your protection," she said.
Authorities asked to report any risk situation to 911 and be attentive to information through official channels.
  Source: San Diego Union Tribune