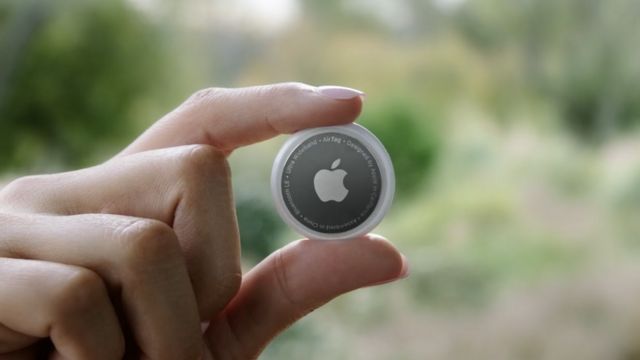 Apple stands out for being effective when introducing anti-theft products. Released on the market in April 2021, AirTag is a tracking device developed by Apple that helps its users to monitor their personal belongings.
Apple AirTags have been used as a Modus Operandi to monitor people.
A few years ago, Apple's AirTags arrived in the Mexican market, which have the functionality of being placed somewhere to prevent something from getting lost or to follow the route of something specific; however, it has begun to be misused, in addition to putting people's safety at risk, since it has been reported that these are an object used as a modus operandi to apparently kidnap people.
We usually forget where certain things are left, for this, Apple has gotten involved and has presented the solution, apparently they want the fact of losing things to be a thing of the past, because with today's technology, it is easy to find someone through maps or GPS and this is the main key to finding objects that were already lost, your AirTag can be attached to practically anything, some people have even attached it to their cats, which are characterized as animals that when they leave they lose track.
Apple AirTags make use of the Find My network, an application that, through iCloud accounts, allows users to track Apple devices, third-party items, and accessories, as well as allowing people to share their GPS location. Working within the Find My network, which has an estimated 1.8 million active users, AirTags anonymously report Bluetooth signals emitted from Apple devices.
Alert in Tijuana modus operandi with Apple trackers
AirTags are designed to run on CR2032 batteries, plus feature speakers that play a sound activated by the user in the Find My app. They are also embedded with U1 chips so that users can use the so-called "Precision Search" feature, which uses ultra-broadband technology, to see the exact location of tracking devices indoors and outdoors. Obviously, these devices are compatible with any Apple device such as: iPhone, iPad, and iPod Touch running on iOS or iPadOS 14 and later.
Previously, in the United States it had already been noticed that some people found AirTags in her car, an American girl realized it because she received an alert on her Apple device indicating that this device had been detected.
Idk what's going on in Blacksburg but someone put an AirTag on my car last night in the squires lot. Just be aware
Under this concept, the same situation is occurring in Mexico, as a user named @Andrea Zuñiga shared on her TikTok account that she discovered by chance that an Apple tracker that was apparently in a car had fallen. Given the situation, the user decided to take the device to the police.
"They put GPS under the cars for robberies, kidnappings, and there are already several cases on the beaches of Tijuana," said the author of the video, likewise, a police officer pointed out that there are already several cases of people reporting the same situation.
Users with Apple devices are often notified that they have an intruder device.
Source: Expansion