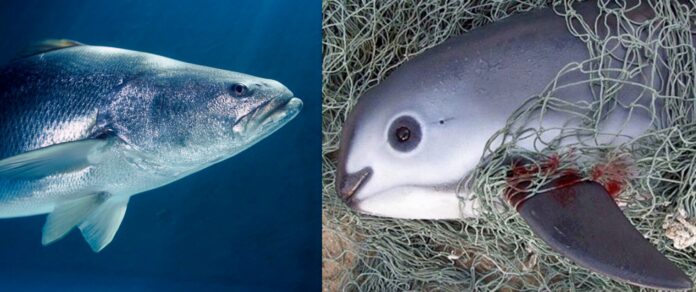 The totoaba or totuava is a species of marine fish, a very large member of the drum family Sciaenidae that is endemic to the Gulf of California in Mexico. It is the only species in the genus Totoaba.
BAJA CALIFORNIA, MEXICO — A fish whose bladder is prized as a source of health — and the porpoises caught in the nets used to catch it — are the focus of global efforts to keep them from being fished to extinction amid an illegal but lucrative business.
Mexico was recently sanctioned by an international body for not adequately protecting the Totoaba fish from being caught and sold by criminal networks as well as safeguarding the vaquita porpoise, which is caught in the nets.
Scientists and environmentalists say it's important to put this kind of pressure on governments like Mexico. But Mexican officials say the fight against illegal fishing has to be an international effort — and experts and conservationists agree.
"The Totoaba and the vaquita are endemic species of the Gulf of California, that is, they only live there, that is their habitat. That is where they feed and carry out their complete life cycle," said Luis Enríquez, a molecular ecology and biotechnology researcher at the Autonomous University of Baja California.
"But the high demand for the totoaba's mouth in China leads to excessive extraction, and this fishing is illegal in Mexico. The worst thing is that they do it with nets in which the vaquitas also get entangled and die," Enríquez said. "These are two species threatened by the same activity. But there is a great interest in the black market. There are many people involved."
On March 27, Mexico was sanctioned by the Convention on International Trade in Endangered Species of Wild Fauna and Flora (CITES), a global treaty that regulates wildlife, that found that the country's "action plan is not adequate."
In Chinese traditional medicine, the totoaba swim bladder is considered a source of health as well as of collagen, believed to slow down aging. It goes for thousands of dollars, and there's high demand for this species, whose capture is prohibited in Mexico due to intense overfishing. This makes totoaba bladders one of the most valuable products on the black market of illegal wildlife trafficking, and it's referred to as "the cocaine of the sea."
Click here to read the complete original article on NBC News.
Source: NBC News