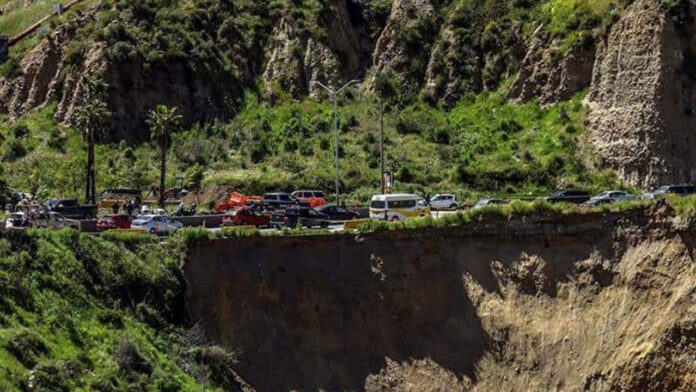 A 35-meter-deep sinkhole off the coast of Tijuana, on the Mexico-California border, has generated chaos in the border city due to the risk of a collapse.
According to the municipal authorities, it was the US Border Patrol who warned of the landslides in the area known as the Matadero Canyon, adjacent to the coastal area next to the border wall.
This caused cracks in the access road to the Playas de Tijuana area, popular with tourism, for which they decided to close two of the main lanes, which has generated chaos for residents due to the long waiting times that are generated.
Experts have pointed out that one of the reasons why it could have been caused was due to a lack of maintenance and, according to Enrique Bautista Corona, head of the Secretary of Urban and Environmental Territorial Development (SDTUA), it would take up to four months to repair the problem.
"In the last few days, certain faults appeared on the hillside, this was caused by rain and erosion and this caused a landslide in the northern part of the slope of the road distributor 'El Matadero', and a blockage in the storm drain of the 94-meter pipe. inches to the northern part, generating a stagnation of water in the southern body," the official told the media.
He explained that the emerging work in the area will consist of a rainwater box of three by three meters in section, by 80 meters in length, to rebuild the slope that will allow the stability of the embankment and the road.
To try to vent the road chaos, the Tijuana city council implemented a plan in which one of the exit lanes will now be used as access, in addition to promoting other alternative access routes, and traffic for heavy-duty trucks was prohibited.
Gabriel Vizcaíno, president of the Mexican Chamber of the Construction Industry (CMIC), told the media that Playas de Tijuana is an area where many people live and where there is significant commercial and tourist activity, so it is necessary to find a solution and let it be "something well done".
"It is extremely important that the authority rush to solve the sinkhole that was registered in the access to Playas de Tijuana since it is the main connection to an important commercial and tourist area of the city", Vizcaino concluded.
Source: OEM
---