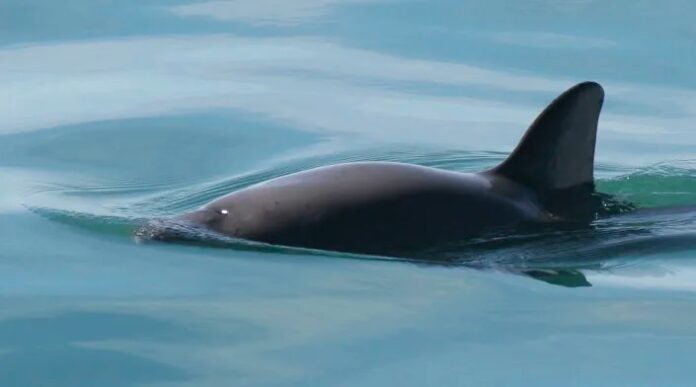 The international wildlife body CITES called Monday on 184 member countries to stop trade with Mexico for products linked to sensitive species, such as orchids, cactuses, and skins from crocodiles and snakes.
The group said the decision came in response to Mexico's failure to protect the vaquita marina, a small porpoise that is the world's most endangered marine mammal. The trade ban will not affect commercial seafood species like fish or shrimp, though some groups are pushing for such broader bans.
Mexico has been slow to stop illegal gillnet fishing for totoaba, a fish whose swim bladder is considered a delicacy in China. The nets used to catch totaba also trap and drown vaquitas as by-catch.
Studies estimate there may be as few as eight vaquitas remaining in the Gulf of California, also known as the Sea of Cortez, the only place they exist. The shy, elusive porpoises can neither be held nor bred in captivity.
CITES is the Convention on International Trade in Endangered Species of Wild Fauna and Flora, signed by 184 countries; it regulates trade and protection for protected species. Trade is permitted in some protected species, like crocodiles harvested for use in shoes or handbags, but such trade is closely regulated.
CITES said in a statement that it "communicates to parties the recommendation to suspend all commercial trade in specimens of CITES-listed species with Mexico."
Zak Smith, director of Global Biodiversity Conservation at the Natural Resources Defense Council, said in a statement that "Mexico is rightly facing the consequences of its failure to control illegal fishing that is causing the vaquita's extinction."
"For decades, the international community has been urging, imploring, and begging Mexico to meet its legal obligations," Smith wrote. "Broad sanctions are appropriate and should stay in place until Mexico demonstrates results."
Mexico's Foreign Relations Department said in a statement that the ruling constituted an "unequal treatment of our country because it did not take into account the many and exhaustive actions that have been taken."
Mexico recently submitted a revised protection plan to CITES, after the body rejected an earlier version. Mexico's plan lists establishing "alternative fishing techniques" to gillnet fishing as one of its top priorities. But in reality, the government's protection efforts have been uneven, at best, and face often violent opposition from local fishermen.
The administration of President Andrés Manuel López has largely declined to spend money to compensate fishermen for staying out of the vaquita refuge and to stop using gillnets.
The government has also sunk concrete blocks with hooks to snare illegal nets in a portion of the Gulf where the vaquitas have been seen.
The activist group Sea Shepherd, which has joined the Mexican Navy in patrols to deter the fishermen and to help destroy gillnets, says the efforts have reduced gillnet fishing. But with so few vaquitas remaining, that may not be enough.
Moreover, experts say the Mexican government has not spent the money needed to train and compensate fishermen for using alternate fishing techniques such as nets or lines that won't trap vaquitas.
Source: Proceso