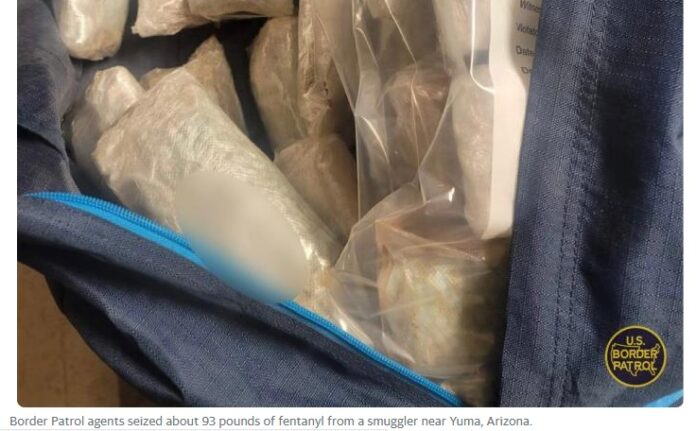 TIJUANA, BAJA CALIFORNIA.- Border Patrol agents based in the San Diego Sector seized 232 pounds of fentanyl with a street value of about $3 million from a single vehicle, officials announced on Monday.
The massive drug bust took place during a traffic stop in San Clemente, a wealthy enclave about 75 miles inland from the U.S.-Mexico border in San Diego, multiple Border Patrol sources told the local press.
It's the third major fentanyl bust so far this month by Border Patrol between ports of entry, meaning that the drugs were successfully smuggled past CBP in a vehicle or were backpacked into the U.S. by mules.
Border Patrol agents in Yuma, Arizona, seized 93 pounds of fentanyl from a single smuggler on Feb. 15, while agents seized 24 pounds of fentanyl from a group of smugglers on Feb. 14 near Nogales, Arizona.
Border Patrol Chief Raul Ortiz noted that the 232 pounds of fentanyl seized in Monday's bust were enough to kill 50 million people.
Trafficking of fentanyl, a dangerous opioid 50 times more powerful than heroin, has surged in recent years.
Seizures of fentanyl by CBP jumped from about 4,800 pounds in 2020 to 14,700 pounds last year. At least 12,500 pounds of fentanyl have already been seized in the first four months of the fiscal year 2023, which began last October.
Drug overdose deaths involving fentanyl, meanwhile, jumped about 22% in 2021 over 2020. The drug was involved in about two-thirds of the record 106,699 drug overdose deaths nationwide in 2021.
Source: OEM
---