Former Buffalo Bills punter Matt Araiza, who was released from the team in August after being accused of sexually assaulting a 17-year-old girl while playing football at SDSU, has not signed with a professional football team in Mexico despite an announcement from the team last week, his agent confirmed Monday, February 20th. 
Araiza, who is not facing criminal charges in the case, is still looking for an opportunity to return to the NFL and has not signed with a Liga de Fútbol Americano Profesional (LFA) team, his agent Joe Linta told ESPN's Adam Schefter on Monday.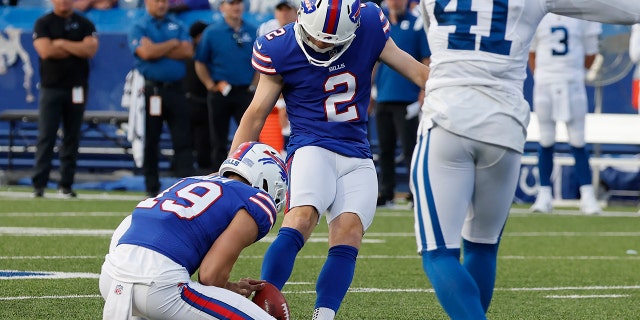 Buffalo Bills placekicker Tyler Bass, #2, boots the winning field goal as punter Matt Araiza, #19, releases the ball while Indianapolis Colts cornerback Alexander Myres, #41, tries to defend in the second half of a preseason NFL football game, Saturday, Aug. 13, 2022, in Orchard Park, New York. (AP Photo/Jeffrey T. Barnes)
Galgos de Tijuana, the team Araiza had been linked to, tweeted out on Thursday that the former 6th round draft pick would be playing for the team in the LFA's 2023 season. 
Source: ESPN