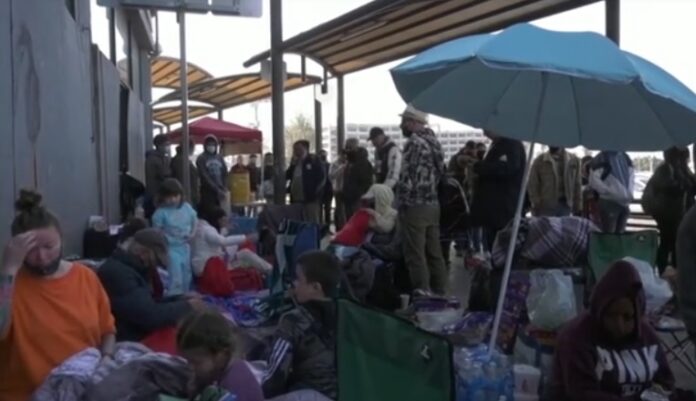 Ukrainians were among crowds at the U.S. border with Mexico seeking asylum on Wednesday, March 16th, lining up at the international checkpoint in Tijuana.
"We're just trying to decide where our new home will be. We have to rebuild our lives from the bottom, from the very beginning. It is extremely… I even shake when I talk about this."
There were also some Ukrainian U.S. citizens, like Maryna Sokolovska, who was at the border camp trying to help her cousin and baby nephew.
"I want to rescue my loved one and bring her to California because she doesn't have anyone, her parents have been without connection for the last six days, we don't know if they're still alive or not."
According to a former U.S. border official who was briefed on the matter, U.S. authorities were granting one-year temporary "humanitarian parole" to Ukrainians.
The U.S. Customs and Border Patrol and the Department of Homeland Security have not replied to requests for comment.
But several Ukrainians told Reuters that they had been granted a year's stay in the U.S.
The U.S.-Mexico border has been closed to most asylum seekers under a pandemic-era policy known as Title 42.
However, a number of Ukrainians have described moving to the front of a line of migrants waiting to make their claims to border officials.
Reuters saw more than two dozen Ukrainians enter the United States earlier this week.
While others seeking asylum, including Mexicans, Colombians, and Russians, were being turned away at the border.
Source: Reuters