The Italian singer will perform in Ensenada
On June 28, Andrea Bocelli announced through his social networks that he will be performing in Ensenada next year. On Saturday, June 11, 2022, Bocelli will perform at the Bajamar Ocean Front Golf Resort, a club located near the Valle de Guadalupe.
This Thursday, July 8 at 10 am, the sale of tickets for the expected concert in Baja California began.
The seats in the bleachers area have a cost of $ 1,866.66 pesos; the preferred one costs $ 3,510.26 pesos; the silver zone has a cost of $ 5,858.26 pesos; the gold zone costs $ 8,206.26 pesos; while for the Tenor VIP area it comes out at $ 11,728.26 and Tenor VIP Plus tickets at $ 17,598.26.
The concert is part of his new tour "Believe World Tour", which is named after his album "Believe". The album features duets with singers Alison Krauss and Cecilia Bartoli, it also includes an unreleased track by the late composer, Ennio Morricone.
It is very certain that some of her greatest hits will also be performed in the show, such as "Vivo por ella" and "Por ti volaré".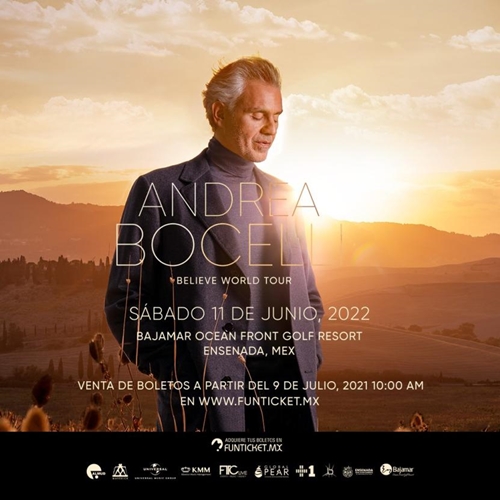 According to Bocelli, his album is based on faith, hope, and charity. You can buy tickets for the concert by entering this link.