The gastronomy of Durango, like a large part of the food that is served in the northern part of Mexico, is made up of meat, because we must remember that thanks to its climate, the land becomes perfect for livestock.
So maybe, some of the following typical dishes that we list for you, you already know them or have already tried them in another region of the country, but I guarantee that you will come across one or another typical Durango food that you do not know and that you will not find in others. regions of Mexico.
Typical food of Durango
Caldo Duranguense
We begin our list of the typical food of Durango, listing the Duranguense broth, which is a regional dish and representative of the state, which is prepared with beef machaca, onion, garlic, roasted poblano pepper, red pepper, and spices.
It can be said that it is the version of a good beef consommé, which is intended to "revive" us, after a night of drinks and lots of fun.
Enchiladas Duranguenses
Durango enchiladas are another of the gastronomic delights of Durango and as you should imagine, it has a special touch that has made it bear its name.
And it is not really about the classic enchiladas that we know from other states, because this Durango food is prepared mainly with guajillos, cheese, cream. and accompanied by contours of rice and different types of puree,
Tamales Duranguenses
We know that tamales are one of the greatest representations of the gastronomic culture of Mexico and that there are more than 100 different types of tamales in the country.
We can also remember that some regions have given their own identity to the tamale, which focuses on the way it is prepared and of course the ingredients it contains, such as the famous guerrero tamales.
Well, Durango is not far behind because it still has its own tamales and despite having a similarity with those of Mexico City, there are some differences such as the red chili fillings that it carries or refried beans seasoned with garlic, oregano, and cumin.
Albondigas
Possibly you have already heard of meatballs, as it is a very peculiar dish in Mexico, although it really always comes accompanied, as for example with pasta.
Well, Durango is one of the few states where you can literally find this dish alone and enjoy its true Arabic flavor.
And we repeat it again, "Arab flavor" because this food is not originally from Mexico and is prepared with ground chicken or beef that is later mixed with egg, tomato, rice or bread and spices such as peppermint. It is presented in a chili sauce, coriander and almonds.
Pipián rojo
The red pipián more than a dish is a very popular sauce in the north of the country and as Durango is one of the many regions that make it up, it is normal to find it.
Well, it is a true meat seasoning and is prepared with pumpkin seeds, peanut corn, ancho chili and spices. When it's ready
Tacos laguneros
The lagoon tacos are another of the gastronomic representations of Durango that are usually very difficult to match and therefore, only in the state will you find them.
The name of this typical Durango food is due to the fact that it originated in the La Laguna region, a municipality of the state, and can be made from poblano pepper slices, egg in green sauce, or pork ribs. And also, to give it that regional touch, they are served au gratin and swimming in a rich sauce.
Discada
The discada or northern discada is a very popular dish in many regions that are part of northern Mexico and despite having the "same" way of preparation, each of the regions has given it its own peculiar flavor.
And before explaining more or less what this Durango dish consists of, we invite you to know the typical food of Chihuahua .
We really do not know very well the origin of this Duranguense food, but we do know that it is a combination of different Mexican meats and sausages such as bacon, ham, sausages, and Mexican chorizo ​​that are mixed and cooked over low heat in a "disk" and hence its name "discada"
Barbacoa de Olla
If you are a traveler who has already been to some part of Mexico before or you live in a region of the country, surely you know what barbecue is and what it is for.
In short, it is a type of "beef" meat broth, which has gained popularity over the years for its incredible power to "raise the dead", that is, take away the hangover from a night of drinking.
Well, this food from Durango is similar to the others, but with the difference that here it is prepared with a pressure cooker and possibly one of the reasons why it was prepared like this is because here it is more a home meal than a commercial one. as in other states of Mexico.
Gallina Borracha
As we mentioned a little above, some gastronomic dishes from Durango, you can only find it here and the drunk hen is one of them and no, it is not a hen that drinks alcohol to die.
This peculiar dish was born in the Laguna region and it is a preparation of chicken meat that is cooked in a sauce of vegetables and alcohol, which can be white wine or sherry.
Asado Rojo
The red roast is another delight that can be found in 50% of the northern regions and it is a dish that is prepared with pork meat, puya chili peppers, and guajillo. It should be noted that this Durango food is served mainly as an offering in the celebrations of all saints, better known as the day of the dead.
Asado de bodas
Despite being a pre-Hispanic food, this dish is not very common to find outside the state of Durango and it has a small similarity with the Asado Rojo.
In particular, this dish was served for the first time during the Mexican Revolution, then it was gaining popularity in different parties and celebrations until it became an essential dish at weddings, and from there comes the composition of its name.
By the way, this dish from Durango is prepared with a meat stew with chili and garlic cream that can be accompanied with many contours, mainly with rice or vegetables.
Gorditas
We have already talked about the Gorditas in other posts like this or this one, and if something has become clear, it is that it is one of the simplest dishes to prepare and of course very rich. Well, this "street" dish can continue to be enjoyed in Durango.
Empanadas De Chilacayote
Empanadas are a representation of Yucatecan food and although the best known and most popular are those made of cheese, chicken meat, or ground meat, surely you do not know those of cholacayote which is a type of green speckled pumpkin very common in this Mexico area.
Bocaditos de Nuez
Like some of the most common in this region, this dessert is made from walnuts; since Durango is one of its main producing states in Mexico. For its preparation, a paste of this dried fruit is used, which is later painted and molded to create various figures.
To accompany the food, fruit liqueurs, corn gruels and mezcal are used, which since 2003 has a Denomination of Origin .
Mezcal, a fundamental of the gastronomy of Durango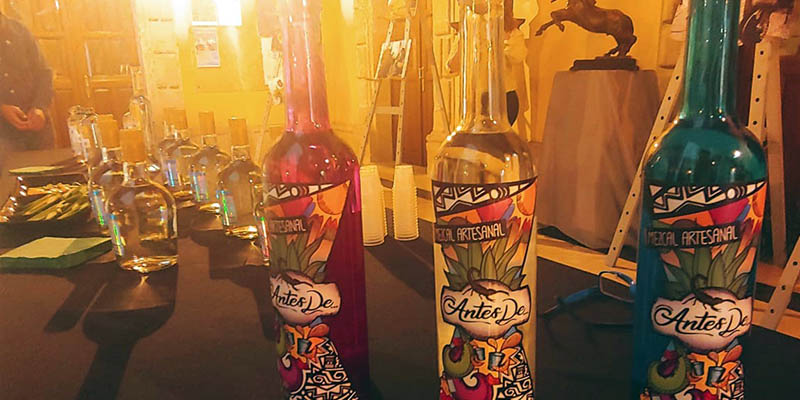 To accompany the food of Durango
There the drink is made mostly by hand with agave that is endemic to the region ( agave Durangensis ). In addition, the cooking of the pineapples of the agave gives it an intense flavor, but full in aromas and with notes of smoke, wood, and quiote. It is made mainly in Nombre de Dios, 40 minutes from the capital.
Source: foodandtravel.mx, lifeder.com