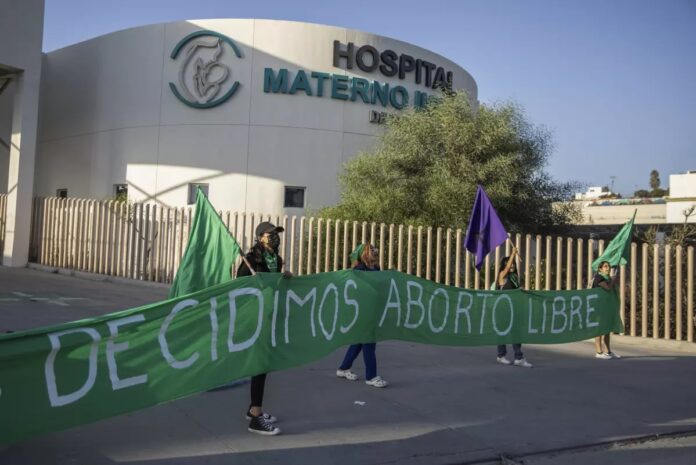 It's eight o'clock on a Sunday night and Crystal P. Lira isn't answering the messages. Her attention is focused on the woman who came to her organization asking for a safe space to have an abortion.
Crystal offered her the offices of her Colectiva Bloodys y Projects in Tijuana, where a wall traces the boundary between this country of migrant transit and the United States.
It would be easy to think that the job of pro-choice activists is to deliver abortion pills, but they are not doctors or pharmacies, but companions. And what does that mean?
"There's a lot of talk about putting the body in," Crystal says. Provide a physical or virtual presence, dedicate your time without receiving any salary and put your own strengths at the disposal of other women.
The escorts work more or less like this: via social networks or WhatsApp, they receive requests from women who want to have an abortion. The reasons vary. Lack of information about the possibility of terminating pregnancy at home, lack of resources, stigmatization in clinics, fear, loneliness. And there is the accompaniment. Tell me, I'm listening, let's do your health protocol, tell me where I'm taking the pills, let me know what time you'll arrive to have an abortion here.
A resolution by the Supreme Court of Justice in September paved the way for decriminalization in Mexico, but abortion did not become accessible overnight. Although the decision implies that Congress must repeal the regulations that criminalize it in the Federal Penal Code, it does not modify state legislation or eliminate social stigma.
In 11 of the 32 entities where it is already legal, activists often denounce that the law is not enough to remedy the lack of supplies, training in clinics, or harassment of applicants. That's why the work continues. Like other organizations, Bloodys draws a roadmap and Crystal aims to awaken empowerment that transcends borders.
The support that Bloodys offers implies co-responsibility, says Crystal. "We do what is possible within our social, legal, cultural and economic context, but we also emphasize that women appropriate the information."
Her office has a bank of medicines and kits with sanitary pads, teas and ibuprofen, but the most valuable thing are the pamphlets that they distribute at public events and summarize what you need to know before having an abortion.
In 2012, four years before she founded Bloodys, Crystal faced an unwanted pregnancy. "I didn't know what to do, where to look or what to think," she remembers. "Like several colleagues, I told myself 'this is not going to happen to me' and when it happened I couldn't believe it."
On the recommendation of a friend and its proximity to the border, Crystal went to a Planned Parenthood clinic in San Diego and returned to Tijuana with a bottle of pills she had never seen before and a debt of $600 that allowed her to pay for her abortion.
Over time she became aware of how many women go through the same bitter pill. "It caused me conflict and concern that some of us could access it and others couldn't."
In 2015, after watching a documentary on abortion promoted by Las Libres – a pioneering accompaniment network in Mexico – Crystal looked for its founder, Verónica Cruz, and in 2016 she received training along with other companions in the kitchen of her home.
"To become aware and form an abortion network I had to question why I came here, why I experienced it this way and how I could have experienced it differently," she says. "All women, just as we have the right to a safe abortion, we have the right to question how it may be different for others."
The easiest thing to learn was the protocol, Crystal says. Take this pill, wait so many hours, take another one. Don't forget this and that. Take care of yourself like this and like that.
"The most difficult thing was the political situation, the perspective of having an abortion based on rights and freedom. "Not to remain silent, not to contribute to the underground."
A country with 32 states means that escorts act in 32 particular ways. There are general guidelines, of course, but activists from the capital have different challenges than those from Oaxaca or Chiapas, where indigenous communities abound, and these differ from those from Guerrero or Tamaulipas, where organized crime oppresses.
What makes Tijuana unique? Border. It is estimated that this year there will be more than 500,000 people mobilized from Colombia through the Darien jungle to cross Central America and Mexico to reach this point that connects with the United States.
Venezuelans, Salvadorans, Haitians and Mexicans – who are displaced by violence derived from drug trafficking – are some nationals who migrate by trains, buses and on foot. Thousands are victims of robbery, human trafficking and sexual abuse.
"We are seeing women who suffer a lot of violence on their way to the United States," says Crystal. "It is something that is not seen in other states."
Some migrants who wish to terminate their pregnancies contact them directly and others are channeled through shelters or midwives. "Thanks to this communication we have realized the need for support for these women because there are times when they do not cross just one border, but several, and at that crossing they experience violence, especially sexual, and they have to experience abortions," she explains. Minerva, another member of Bloodys who asked to reserve her last name for security reasons.
It is difficult for a migrant to access information, medications and a safe space to have an abortion, says Crystal. "They are in shelters, in camps or houses where they live with many other people. So, since it is not the ideal context to do so, we have to accompany them here."
Not all Mexicans celebrate the Court's position and those who reject abortion have also taken action.
After the resolution, the actor Eduardo Verástegui registered as a presidential candidate for the 2024 elections and his campaign repeats "yes to life, no to abortion." Without mentioning him by name, Cardinal Carlos Aguiar Retes called to vote for him and has the support of Catholic citizens and other groups who have presented signatures to local congresses rejecting decriminalization.
"What the Court is doing is judicial activism," says Rodrigo Iván Cortés, president of the National Front for the Family. "Use judicial instances to express ideology."
In reaction to the resolution, organizations related to the Front led a protest in recent days. "We are marching in favor of women and life because it is an inseparable relationship," he adds.
Every progressive movement is followed by a setback from groups that organize against it, says Sofia Aguiar, a lawyer at GIRE, the organization that presented the protection and motivated the Court's response. "We saw it in the United States (with the rollback of Roe vs. Wade) and in progressive movements in Europe and Latin America."
That is why GIRE and other organizations say they are ready to defend what they have gained and expand their reach in reproductive health. Not only fight for abortion, but to combat obstetric violence, maternal death and forced contraception.
As the laws advance, Crystal and other Tijuana activists have banded together to promote an idea: "know your body and decide what you want for it."
With this they hope to disseminate what options there are for those who can have an abortion in legal environments – private clinics, public hospitals, accompaniment spaces or their own home – and the scope of autonomy: deciding who is going to accompany you, how much you want to invest .
"Not even the companions themselves should know," says Crystal. "We have received messages from women who tell us 'I did it with your information, thank you very much, keep up the good work'."
Bloodys' next bet is to migrate its strategies to the United States in complicity with a colleague who moved to San Diego. The plan includes replicating protests, providing the medication – which requires a prescription there – and communicating that abortion at home is possible and safe.
Another short-term plan is to support women from various positions. In collaboration with the National Front against Food Debtors of Baja California, they accompany mothers who demand support from parents who are not responsible for their children and with Espacio Mujer Lunar they will offer workshops on menstrual health in shelters for migrants.
"Talking about abortion is important, but one way for women to take ownership of their decisions, their lives and their bodies is to take ownership of those other processes," says Crystal.
Her ally will be Mónica Rosas, founder of the collective that spreads how the menstrual cycle is a vital sign of health and recognition of fertility. "We created a space for accompaniment on self-knowledge as a tribe," says Mónica.
Her first approach to migrants—with which she addressed how violence, stress, nutrition, and lack of rest affect the body—occurred at the end of September at the invitation of UNHCR. The second will be in mid-October in the company of Bloodys and, as paradoxical as it may seem, it will be held in a religiously affiliated shelter that serves about 1,700 people.
The program includes body literacy – naming the anatomy of the body free of taboos – describing the phases of the menstrual cycle, a dance and songs that address other perspectives on being a woman.
"We would love for these women who are passing through, waiting for an opportunity to cross, to carry this information," says Crystal. "That our bodies (yes, in feminine) are powerful and if we know them, they can help us reach our own identity, to give us our own value."
Source: LA Times