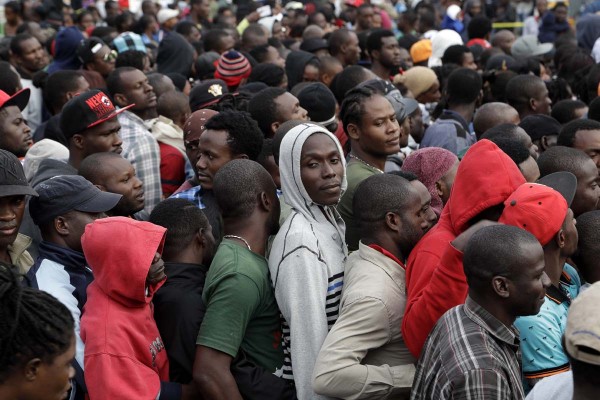 The U.S. government announced Friday it will take referrals of Haitian, Cuban, Venezuelan, and Nicaraguan citizens from Mexico for possible resettlement as refugees in the United States.
Mexico announced earlier this week it will set up a service center offering jobs and resettlement for people from those four countries. It said the center will be on the southern border with Guatemala, but did not specify where or when it would open.
When the U.S. government began requiring asylum seekers to apply online or from their home countries, many of them had already begun the journey to the U.S. border and wound up stuck in Mexico. The Mexican center is meant to serve those people.
"We are announcing our full support for an international multipurpose space that the Government of Mexico plans to establish in southern Mexico to offer new refugee and labor options for the most vulnerable people who are currently in Mexico," said
U.S. National Security Adviser Jake Sullivan said the United States is supporting Mexico's new center and will "accept refugee resettlement referrals from qualified individuals from Cuba, Haiti, Nicaragua, and Venezuela who are already in Mexico."
He gave no details on how the referrals would work or how many would be accepted.
The U.S. has a new policy to grant parole for two years to up to 30,000 people a month from Cuba, Haiti, Nicaragua, and Venezuela if they apply online with a financial sponsor and arrive at an airport. It was not clear whether referrals accepted from Mexico would have to have a financial sponsor.
On Wednesday, Mexico's Foreign Relations Department said in a statement that the new center "would provide refugee services, and at the same employment options, to connect migrants with the big projects being built in the south southeast."
Mexico is building a tourist train line, a string of industrial parks, an oil refinery, and other projects in the area.
Mexico also has been pressing Washington to help finance two Mexican programs that it is seeking to expand to Central America. One pays farmers to plant and care for trees and the other is a system of youth job training and apprenticeships.
Mexico said Wednesday the U.S. has agreed to contribute $40 million to that effort in El Salvador, Honduras, Belize, Guatemala, Cuba, and Ecuador.
The U.S. government has physically blocked migrants from claiming asylum at land crossings with Mexico unless they have an appointment through the CBP One app.
Source.- Imparcial