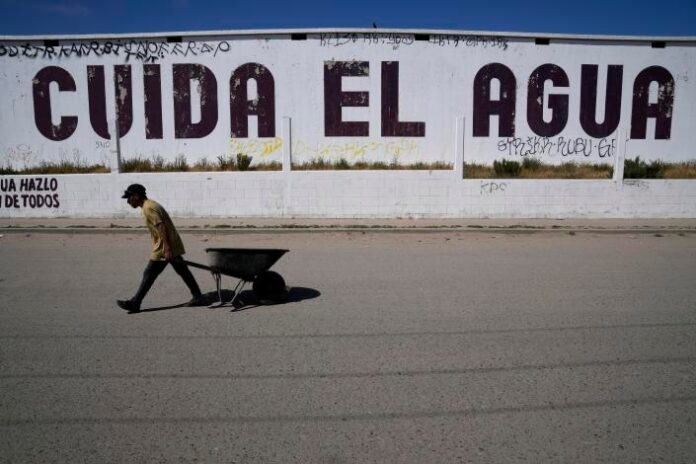 Luis Ramirez leaped onto the roof of his bright blue water truck to fill the plastic tank that by day's end would empty into an assortment of buckets, barrels, and cisterns in 100 homes.
It was barely 11 a.m. and Ramirez had many more stops to make on the hilly, grey fringes of Tijuana, a sprawling, industrial border city in northwestern Mexico where trucks or "pipas" like Ramirez's provide the only drinking water for many people.
"Each time, it gets farther and farther where we have to go," he said, blaming the city's water problems on drought and population growth, before jumping into the driver's seat next to 16-year-old assistant Daniel Alvarez.
Among the last cities downstream to receive water from the shrinking Colorado River, Tijuana is staring down a water crisis driven also by aging, inefficient infrastructure, and successive governments that have done little to prepare the city for diminishing water in the region.
Entire neighborhoods on Tijuana's hilly and sometimes grassy far reaches remain unconnected to the city's water mains and pipes. Accessing water there is a daily struggle — and an expensive one, as trucked-in water usually costs much more than what people connected to the city pay.
Taxi driver Aurelio Hernandez lives in one of roughly 150 houses in a remote development near vast industrial parks that make aviation parts in the city's south. Dirt roads are so steep they seem vertical and lead to the village.
"It is the biggest problem we have," said Hernandez, who has lived in Rancho el Chicote for 20 years, about the lack of running water. Hernandez, his wife, and two daughters use about 1,585 gallons (6,000 liters) of trucked-in water per month, he said, which costs about 2,000 pesos or $116. The average U.S. family uses more than five times as much water each month, according to the Environmental Protection Agency, yet pays less, despite Mexico's much lower wages.
"Every year it's the same. Politicians come and promise you things, but nothing ever changes," Hernandez said.
Even in middle-class neighborhoods, like homemaker Martha Muñoz's in Tijuana's fast-growing south, neighbors have to share updates on WhatsApp about possible shutoffs and coordinate requests to city authorities when it's cut.
"The state government is trying to bring some relief, but it will take time," Muñoz said. "Meanwhile, it's really hard every time there's a burst pipe because they leave us without water for five days."
That's what happened in April, when upwards of 600 neighborhoods — more than half of the whole city — went without water while the state water utility known as CESPT in Spanish, repaired leaks in a primary main.
For some, that shutoff lasted days longer than the official 36-hour estimate. Authorities admitted that given the size of the area affected, they could not send water trucks to many neighborhoods.
"People are left without water for way too long," said Jose Manuel Perez Reyes, who distributes trucked-in water, adding that the government sometimes tells residents the shutoffs are to fix pipes when in reality there simply isn't enough water.
Even for the 700,000 users, according to CESPT, that are connected to city water, faucets often go dry, forcing them, too, to pay for trucked-in private water.
"It's like playing whack-a-mole in terms of trying to see where things are going to pop up next," said Carlos de la Parra, a water consultant and former professor of urban studies and the environment at the Colegio de la Frontera Norte who has studied water issues in northwestern Mexico for decades.
Water utilities are struggling to keep pace with both Tijuana's growth, de la Parra said, and about 8 to 10 years of neglect of infrastructure.
Then, there's drought. Nationwide, more than 44% of municipalities in Mexico were in drought in May, according to Mexico's National Water Commission. Tijuana's challenges are acute as one of the country's fastest-growing cities in one of Mexico's most water-stressed states.
In charge of running the water utility in Tijuana is Victor Amador, who, despite the daily struggles for water in the city, denied that taps run dry except when work is being done on the pipes.
"We don't have problems at the moment," Amador said. "For now, we have enough water."
But that wasn't the case in January when Tijuana shut off a water main to perform work and had to request about 540 acre-feet of emergency water from San Diego. (An acre-foot of water is equal to 326,000 gallons or 1.2 million liters.)
The water — available during times of acute need, but counted against Mexico's share of Colorado River water — traveled through Southern California's behemoth aqueducts and across the U.S.-Mexico border. Such emergency water transfers have taken place for more than 50 years, the San Diego County Water Authority said, and have been needed every year since 2018 except one.
More than 90% of Tijuana's water comes from the Colorado River, traveling west across Baja California and over a 4,000-foot (1,219 meters) mountain pass through a single aqueduct that itself is often under repair. Over the past two years, Mexico's share of Colorado River water was slashed by 7%, and while those cuts have yet to affect Tijuana, hydrologists, and policy experts emphasize that the city and state of Baja California need to secure other water sources — soon.
Despite years of promises from federal, state, and city officials to diversify Tijuana's water supply using ocean water desalination and treated wastewater, the city has little to show for it. Amador said the government is working toward developing both.
"We're living in this drought as if nothing were happening," said Manuel Becerra, a water consultant based in Tijuana and former city superintendent of public services.
Part of the challenge for Tijuana's aging infrastructure is the city's layout: water is pumped up and down steep hills and canyons to reach developments that have sprawled in every direction as the city has grown — 19% since 2010. Then there's the estimated 7% of the water that Tijuana loses to leaks, according to the state water utility.
"The topography of the area requires that water is pumped and re-pumped," Becerra said. "Sometimes even though there is water, the pumps fail, the power fails, or the pipe breaks and service is interrupted."
On his fifth stop after re-filling his truck, water truck driver Ramirez descended a steep, gravel road to enter a neighborhood with about 100 homes not connected to city water. He stopped in front of a grey, two-story cinderblock home where retired construction worker Jose Trinidad and his wife move water from tank to bucket to bowl for bathing, cleaning, and cooking.
Every month, Trinidad said he spends 1,600 pesos (about $91) on water. After food, it's his largest expense.
"We spend a lot. It's difficult, but we have to deal with it," Trinidad said. "We have no choice."
Source: AP
---