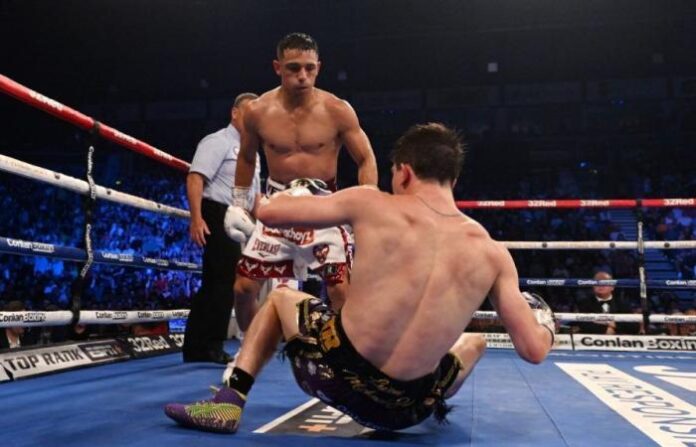 Mexican boxer Luis Alberto 'El Venado' López (28-2-0, 16 KO's), from Mexicali Baja California, danced at the house of the spin to retain his International Boxing Federation (IBF) featherweight champion belt by defeating the Irishman by technical knockout Michael Conlan (18-2-0, 9 KO's) at The SSE Arena in Belfast, Northern Ireland.
The finish came at 1:14 of the fifth round when a rising right hook dropped Conlan whose corner threw in the towel without even allowing the referee to start the protection count.
"I hope all the world champions in the featherweight division are ready for 'El Venado' Lopez," said the Aztec warrior. "I'm going for all of them. I want all of his belts. One by one, I'm taking all of his belts to Mexico."
This was the first defense of the 126-pound title for the 29-year-old Mexican who had won the belt, also as a visitor, against Englishman Josh Warrington (31-2-1, 8 KO's) by majority decision in Leeds, England on past December 10, 2022.
"It was an excellent environment to fight. The energy was incredible. The Irish boxing fans have treated me very well, so I'm glad that Mick and I can give them a great fight," remarked the Mexican who made his professional debut in November 2015. "I wish Conlan the best of luck going forward, and I hope he recovers and returns very soon."
For Conlan, it was his second starting chance and he finished his attempt knocked out as on the first occasion, when he was ahead on the cards, but Leigh Wood arranged it for him to knock him out in the 12th round of what was the 2022 Fight of the Year for Conlan. ESPN.
"Lopez had my respect before the fight and he still has my respect after the fight," the Irish fighter said. "He Hits so hard. He just beat me. Safe trip back and he's a great champion."
Conlan used his best knowledge of the Art of Fistiana to neutralize the Mexican in the first two rounds. However, the isolated power of the 'Deer' not only reddened the face of the 31-year-old Irishman, it also lowered his self-esteem.
Already for the third and fourth rounds, the power and success of López balanced the contest on the judges' cards, but the body language of both fighters predicted an outcome in favor of the visitor.
The only defensive argument that Conlan had left was to tie up, while the audience was silent watching their fighter in trouble. A rising hook from Lopez ended the contest in which he had been listed as an underdog by Caesar Sportsbook.
Source: OEM
---