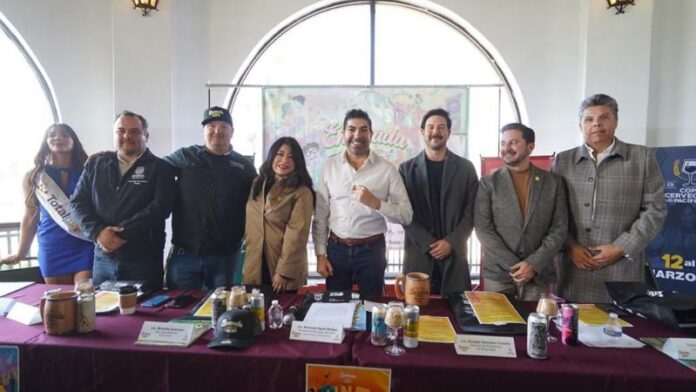 Baja California ranks first in craft beer production in Mexico, a sector that has maintained an annual growth of 12.5% in the entity in the last five years, said Michelle Guerrero, Undersecretary of Economic Development of the State Government.
During the announcement of the 2023 edition of the Ensenada Beer Fest, the official highlighted that beyond the importance that this festival represents, it is one of the most attractive industries in the region, both in production and in the tourist-gastronomic aspect.
Francisco Talamante, organizer of the Ensenada Beer Fest, informed that, although the artistic festival and tastings will take place on March 17 and 18 at the facilities of the Riviera Social, Civic and Cultural Center, throughout that week there will be conferences, workshops and one of the most important craft beer contests that take place in Mexico.
It is estimated that around 10,000 people will attend the two days of concerts and 130 craft beer producers will participate, while representatives from 10 countries will compete with 1,050 beers in the Pacific Beer Cup.
Likewise, it was announced that, with the sponsorship of the United States Consulate in Tijuana, a free congress will be held for attendees.
The mayor Armando Ayala Robles stressed that this event generates a significant economic benefit at regional level of close to 50 million pesos, since during the week that the festival takes place, tourists arrive who visit the municipalities with the production of craft beer, which generates hotel occupancy, consumption in restaurants, self-service stores and other establishments that provide services.
Enrique Hermann Ceseña, director of Proturismo de Ensenada, reiterated the support of the Municipal Government for this activity, which is part of the 2023 Events Calendar, which this year includes more than 170 cultural, recreational and sports activities.
Source: El Vigia