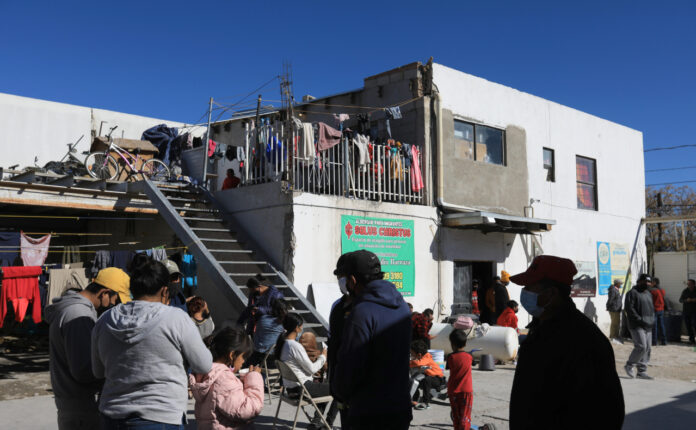 Non-profit migrant shelters in the city of Tijuana, Mexico, just south of San Diego, are experiencing an alarming increase in attacks. The frequency of threats and hostilities in the last four months raises serious concerns about the safety of migrants and shelter staff in a city experiencing high levels of violence. As US authorities advise its citizens to reconsider traveling to the state, they are sending hundreds of people to Tijuana – many of them non-Mexicans – every day.
The nature of shelter work makes them vulnerable to organized crime, often enabled by official corruption, who would profit from smuggling migrants, such as those behind the shelter doors. In recent months there has been what appears to be a sharp increase in violence and threats of violence against migrant shelters in Tijuana, with little or no protective response from local authorities.
– The most recent example, noted in the local news, was an attack on January 25 against the Embajadores de Jesús shelter, in the south of the city. An armed individual opened fire on the shelter from outside. There were no injuries, but it traumatized the hundreds of migrants inside, many of them victims of violence in their home communities.
– In early January, unidentified individuals threatened to burn down the Assabil shelter, which opened its doors in mid-2022 to accommodate Muslim migrants. Two days later, assailants fired at the facade of the shelter and left a note with the inscription "CJNG", the initials of the Jalisco Nueva Generación Cartel.
– In December, hundreds of migrants from the Agape shelter in southern Tijuana staged a protest in front of the army headquarters in the city, demanding that the Mexican authorities provide them with protection. The protest came after gunmen aimed guns at them from nearby rooftops threatened migrants and shelter staff.
– The same shelter suffered an attack three months earlier, in September 2022. Unknown assailants shot through the shelter's windows while women and children slept inside, Telemundo reported there were no injuries, but several migrant women asked President Biden for refuge for their children, who remained stranded in Tijuana due to the US blockades on asylum. In May, a stray bullet from a nearby gunfight injured a woman in the same shelter. It was not the first time that the surrounding violence affected the refuge.
– The Embajada Migrante shelter, located in the Pacific, near the border wall, was forced to close in November after an armed criminal group stormed its facilities, threatened migrants and demanded $200 in extortion.
– In September, the Movimiento Juventud 2000 A.C. and Ágape reported having received threats to set their facilities on fire if they continued to shelter migrants
These incidents point to a growing pattern intensifying organized crime disputes in Tijuana, a city of 2 million people that recorded more than 2,000 homicides last year. (For comparison, New York City, with four times as many people, had 433 homicides in 2022.)
Tijuana has the largest community of migrant shelters on the US-Mexico border: there were approximately 37 in the city when WOLA visited in May 2022. The oldest shelters, established in the 1980s, originally offered short-term stays for adults. Mexicans deported from the United States, or Mexican migrants from the north fleeing their communities of origin. As the migrant population changed in the 2010s, shelters began to take in many more non-Mexican migrants, including families and members of the LGBTQ community, from dozens of countries.
In recent years, the population of Tijuana's shelters has increased by taking in asylum-seeking migrants who needed extended stays: those who were forced to add their names to "waiting lists" to request asylum in the United States, and who were returned to Tijuana by the US government's "Remain in Mexico" program and the Title 42 pandemic expulsion policy.
Authorities in Baja California and Tijuana say state government prosecutors and investigators cannot proceed with investigations if the shelters do not file a formal complaint. Shelters are understandably reluctant to file a formal complaint, which could worsen the threat climate in which they operate. But that reluctance cannot be a pretext for impunity. Authorities at all levels—Mexico's federal government, Baja California state agencies, Tijuana municipal agencies—must be proactive in ensuring the safety of shelters. With or without a formal complaint, they must protect the facilities, and their vulnerable population, from further attacks, and investigate and hold those responsible to account.
US authorities must also take into account the security situation of the shelters. Between October and December alone, the Department of Homeland Security (DHS) used Title 42 to expel 24,320 migrants to Tijuana from 16 countries. Mexican government statistics show that Customs and Border Protection (CBP) and Immigration and Customs Enforcement (ICE) deported another 23,855 Mexican migrants to Tijuana during those same three months. Meanwhile, in November 2022, the University of Texas Strauss Center reported that some 23,000 migrants are waiting in Tijuana for the opportunity to present themselves at the San Diego port of entry to claim asylum.
In this context, the Mexican authorities in Tijuana must improve the protection of the city's migrant shelters and investigate and hold accountable those responsible for the current wave of threats. Simultaneously, the Biden administration must end policies that continue to restrict access to asylum at the border, which is worsening the danger migrants face in Tijuana and other Mexican border cities.
Source: WOLA.org