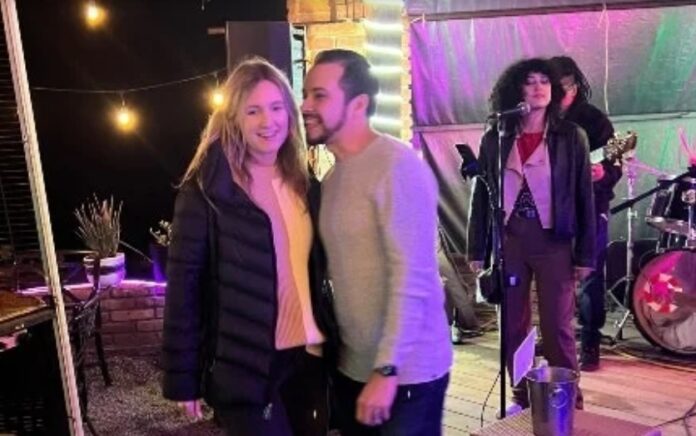 ROSARITO, BAJA CALIFORNIA.- New photos show Orange County deputy public defender Elliot Blair — who mysteriously died Monday while on a one-year wedding anniversary to Mexico — dancing just hours before police say he fell off a balcony outside his hotel room, though his family believes differently.
Mexican website Patrol 646 said Blair, 33, was intoxicated and fell to his death from a fourth-floor balcony at Las Rocas Resort and Spa in Rosarito Beach, though his family denied that report and said the tragic incident took place in an "open-air walkway located outside the front door of" the couple's room.
In photos taken just hours before Blair died, he can be seen dancing before a band and smiling with his wife. Other photos show the recently married couple eating out and taking in scenic beach views on what was supposed to be a relaxing and romantic getaway that turned deadly for reasons the Blair family is still trying to determine.
Attorney Case Barnett, who is representing the Blair family, told Fox News that they received a phone call from the local coroner's office after the 33-year-old's death saying his cause of death was blunt force trauma to the head.
The coroner also said Blair's case would be forwarded to the local DA's office to conduct a "possible homicide investigation."
A Mexican investigator at the scene, however, had previously told Blair's wife that he died of a gunshot wound to the head.
The family also received a press release from a Mexican prosecutor describing Blair's death as an unfortunate accident, saying the 33-year-old fell off the hotel's balcony after ingesting a significant amount of alcohol.
Blair's family, however, does not believe he was intoxicated and fell. They believe he was the victim of a brutal crime, according to Barnett.