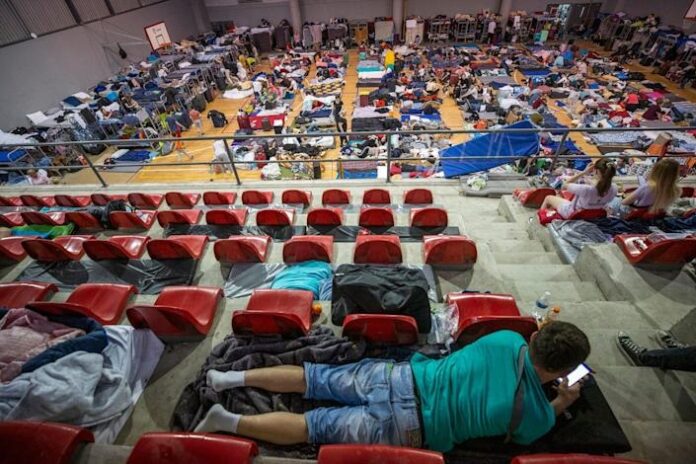 TIJUANA BAJA CALIFORNIA.- More than 2,000 Ukrainian refugees have arrived in Mexico's largest border city and the pace continues to grow every day with hundreds of new arrivals as the U.S. government speeds up processing to admit Ukrainians under humanitarian parole.
President Joe Biden said the U.S. would admit 100,000 Ukrainian refugees into the country. But his administration has not disclosed details, other than directing U.S. Customs and Border Protection to process Ukrainians arriving to the U.S.-Mexico border.
As a result, Tijuana has become the key crossing point into the U.S. for Ukrainians fleeing war. The city across the U.S.-Mexico border from San Diego is a major travel hub.
Nearly all flights coming from Mexico's other large airports with international connections to Europe land in Tijuana with dozens of Ukrainians on board as word of mouth spreads about the ease with which refugees can enter the United States.
Some Ukrainians are also traveling to ports of entry in El Paso and Calexico. The number of refugees seeking asylum in those locations is much smaller, in the dozens, compared to what's being experienced in Tijuana.
A network of volunteers, mostly from churches and Ukrainian communities in the western United States, have set up a system to receive Ukrainians at the Tijuana airport, provide food, clothing, and transportation to a makeshift shelter, hotels, and the San Ysidro border crossing for processing.
Paul Kharchenko is one of those volunteers who took a week off from work to help. He's from Ukraine but has lived in the U.S. for the past 10 years. He traveled Monday to Tijuana from Portland, Oregon, with the Slavic Church Emmanuel and Giving Hope, a nonprofit raising funds and resources for Ukrainians.
"I couldn't fly to Ukraine to help. But I can be here right, present. At least help them to either come here, get some food, get some water, … make them feel welcomed," he said.
Ukrainian flags and signs welcome refugees as they exit the airport. Volunteers from the U.S. also set up a booth at the waiting area to register families and place them in the processing queue at the San Ysidro border crossing in San Diego. New arrivals can track progress of the line on their phones.
Kharchenko said the presence of volunteers at the airport has made a huge difference for many of the arriving Ukrainians, many of whom do not speak Spanish or speak limited English but have had lengthy journeys to get to Tijuana.
"It's very hard because you have to run to your flights and you have a lot of belongings and you don't even know what to do," said Vladyslava Bohashova, a Ukrainian refugee from Kyiv headed to Los Angeles to stay with her sister.
"And you're very stressed because you're not going to travel. You're trying to find the country where you can just live and just not be afraid of waking up in the morning," she added.
Bohashova left Kyiv with her mother on March 4 and arrived in Tijuana on April 5. Their journey took them to Lviv in western Ukraine, where the two crossed into Poland. They traveled to Germany, then to Spain, where they took a flight from Madrid to Mexico City.
More: What is Title 42, when does it end, how does it impact US-Mexico border? Here's what to know
The Mexican government has not imposed any travel restrictions on Ukrainian travelers, so after securing their Mexican visas, the pair took another flight to Tijuana, where Bohashova said she was relieved to find volunteers speaking her language and offering to help them.
"It makes your heart feel warm, and that you are at home," she said.
After they arrive in Tijuana, Ukrainians have a much easier path to the U.S. than thousands of other asylum seekers living and waiting in Tijuana. They spend an average of two to three days before U.S. border officials process them at San Ysidro.
Source: El Financiero
Baja California Post