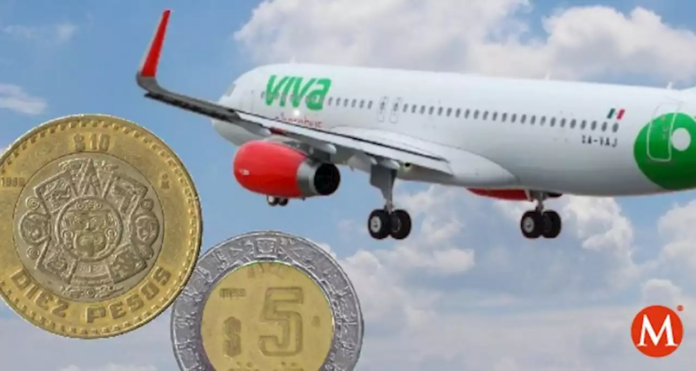 The flights only correspond to the section of the Tijuana-Guadalajara route.
Viva Aerobus,  a low-cost Mexican airline, launched a promotion in which it offers flights from 15 pesos, plus the airport use fee (TUA), this as part of the celebration because in  2021 it transported a total of 15 million passengers.
The promotion will be valid from January to March 2022, according to the airline's portal. 
The flights that are offered for this price correspond to routes that originate in the airports of Tijuana and Guadalajara."Last year we connected 15 million passengers with their favorite destinations, so we want you to fly from 15 pesos plus 436.86 pesos TUA," the airline announced through its social networks.
What are the flights that cost 15 pesos?
Departing from Guadalajara:
bound for Mexico City.
bound for Monterey.
bound Tuxtla Gutiérrez.
bound for Veracruz.
Departing from Tijuana:
bound for Guadalajara.
bound for Monterey.
It is worth mentioning that the rate does not include the TUA charge of 436.86 pesos, calculated until January 14, 2022, corresponding to the Tijuana – Guadalajara section, and could have modifications of the final price at the time of payment.
Users through social networks mocked and described this promotion as misleading advertising, since last year, the Mexican airline has been constantly monitored by the Federal Consumer Protection Agency (Profeco), due to complaints of poor service and bad practices.
On September 6, 2021, Profeco warned consumers about the possible misleading advertising of Viva Aerobus, because the company was singled out for not respecting the advertised offers. For this reason, it was sanctioned and forced to immediately withdraw the advertising.
The airline also had the promotion to fly where you want in Mexico for 39 pesos, however, they did not mention that the TUA fee would be added to it; so the final price was different from the one mentioned at the beginning.