Tickets for the "Art With Me" festival had a cost of $ 350 and took place between November 11 and 15.
The international festival resulted in tens of thousands of infections of the virus.
The founder of a private testing company says up to 70% of its positive cases in NYC can be traced back to the event
A Burning Man-like beach festival in Mexico became a hot spot for COVID-19 when a number of attendees contracted the virus and appeared to have carried it back with them to the U.S., a new report suggests. 
Art With Me, a four-day art and music festival in Tulum, Mexico, which is now being referred to as a super spreader event, was held from Nov. 11 to Nov. 15. Attendees told the Daily Beast there were minimal social distancing and hardly any mask-wearing. 
Checkmate Health Strategies, a private COVID testing company, has since said the majority of positive COVID tests administered in the past few weeks were from individuals who went to the Art With Me festival or those who came in contact with someone in attendance, the company told the outlet.
Tickets for the "Art With Me" festival had a cost of $ 350 dollars, approximately $ 6964.23 Mexican pesos. Thousands of foreigners came from all over the world.
"I would say that 60-70 percent of my positives in the last couple weeks in New York City have been a direct result of either people coming back from Art With Me, or who have been directly exposed to someone who attended Art With Me. And I test in Miami as well, and my testers there tell me that a lot of their positives are people coming back from Art With Me," Checkmate Health Strategies founder Eleonora Walczak told the Daily Beast. 
Angelica, a New York City-based woman who asked Fox News not to reveal her last name, moved to Tulum during the pandemic and contracted the virus over the summer. She told Fox News a friend who went to the Art With Me parties became sick with virus symptoms back in New York. 
"My friend was in Tulum on vacation during that time and she stayed in the hotel zone next to the festival," Angelica said. "She did go to the parties and some installations. She already started feeling bad in Tulum and by the time she landed in New York City she had all the [COVID] symptoms: headaches, fever, diarrhea, weakness, loss of scent — practically every symptom on the list except shortness of breath. It lasted at least a week until she was better."
The news comes as the CDC strongly urges against U.S. travel to Mexico, listing it at a level 4, or "very high" risk category — its highest level.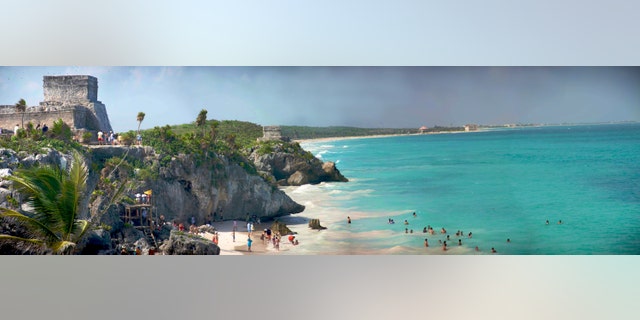 The World Health Organization on Nov. 30 deemed Mexico to be in "bad shape" following an uptick in deaths the week before, advising the country to take caution. As of Dec. 1, Mexico's death toll surged to 105,940, the fourth-highest number in the world, with 1,113,543 confirmed cases of the new coronavirus.
"All I will say is that there was not one mask and I got more sick than I ever did in my entire life after that party," one woman told the Daily Beast. 
Those who organized the event did not ask those who attended any type of medical examination to verify that they did not suffer from Covid-19. They claimed that there is not enough PCR testing in the region, which is why this option was not viable.
Antonio Romero, the administrator of the Tulum Hospital, commented to the aforementioned North American media that they have treated multiple people who attended the event, the vast majority of Chilean, Argentine, and other Latin American countries.
Event organizers allegedly issued guidelines to curb the spread; however, the individual who was reported to have contracted the virus after attending the festival said organizers served finger food with guests serving themselves. 
Most of the participants of "Art With Me" came from other countries and traveled by plane in the following days, so the consequences of the contagions of this festival reached many parts of the world. Eleonora Walzack is the founder of Checkmate Healt Strategies, a private company dedicated to testing for Covid-19 and treating people with this disease in the cities of Miami and New York, in the United States.
In Mexico there are more than a million infected and 100,000 deaths from the new virus; however, vacationers in some of the most popular tourist destinations in the country experience stays full of parties and activities with a very high risk of contagion. The consequences of these irresponsible practices can be seen in hospitals in Mexico and in many other latitudes.
Source: elpais.com, infobae.com, foxnews.com, eluniversal.com.mx