Megan Frye is a writer from Michigan who has lived in Mexico for more than five years. She is grateful to her adoptive country for supplying her with abundant sunshine, endless adventure, and the heart medicine that is Mexican cuisine. Megan recently published an article about "Living in Mexico" on Thrillist, check it out…
Mexico is a massive country encompassing dense metropolitan areas, desolate deserts, pristine beaches, and tiny towns. Choosing the right place is essential, both to your quality of life and your personal safety. Start with these destinations to find the best fit for you.
Mexico City: The unknowable behemoth is the easiest place to find work and to travel to and from. It's the hub of business, government, higher education, entertainment, nightlife, and everything in between. And at 30 million residents, it's a beast. Living here is more expensive, and gentrification runs rampant (looking at you, NYC digital nomads), but it also has a spectacular art scene and you can find everything under the sun that you might possibly need. Plus, for about $150 round trip, and often less, you can fly direct to almost anywhere within the republic.
---
Guadalajara: Much smaller than Mexico City—but still big—Guadalajara enjoys a pleasant year-round climate and easy access to the coasts of Jalisco and Nayarit, as well as mountain escapes surrounding the city. As Mexico becomes a bigger player on the economic world stage, Guadalajara is enjoying economic expansion that means more jobs, more housing, and more foreigners. It's even called the Silicon Valley of Mexico, with a number of technology companies popping up.
---
Mérida: A new, sprawling, and impossibly hot city surrounding a colonial center, Mérida is consistently ranked one of the safest places to live in Mexico. The rumor—so the Mexicans say—is that's where the narco bosses send their families to live. I don't know about chismes (gossip), but it's a pretty town with access to all the best of what the Yucatán Peninsula has to offer: including its otherworldly cuisine, Mayan archaeological sites and Mexico's greatest concentration of freshwater in the form of underground rivers that yield heavenly pools known as cenotes.
---
Puebla: Just two hours south of Mexico City, Puebla is a major city with tons of history, amazing food, and a more laid-back lifestyle than CDMX. It's access to some of the most beautiful towns in Mexico and is well situated to explore the country, all while being within reasonable distance from anything you might need in the capital, including the international airport. Next to Puebla, Cholula has a pyramid, college bars and an old school Mexican pueblo vibe.
---
Querétaro: This stunning city is even more relaxed (and yes, less exciting) than Puebla. Due to the overcrowding, air pollution, and traffic that everyone complains about in CDMX, Querétaro is getting more popular with people fleeing the city. It's an ideal base for exploring all points in the central part of the country, including Guanajuato and Querétaro's unique and chill sierra, as well as la Huasteca Potosina, one of Mexico's not-to-be-missed regions.
---
Smaller-size cities: Mexico comprises 31 states and Mexico City and each state has a sizable capital city. Oaxaca, Morelia, San Cristóbal de las Casas, and Zacatecas (my personal fave) offer a high quality of life for people who have the earning potential that immigrants (some would call them ex-pats, a topic of contention) typically do. They maintain their historic charms and Mexican identity while also exploring modernity on their own terms. If you move to one, just know the prices: Don't be a colonizer and force people out of their own town with your flashy dollars and Crypto. Move to Mexico for Mexico. Not with hopes of turning it into Seattle Sur for your own convenience.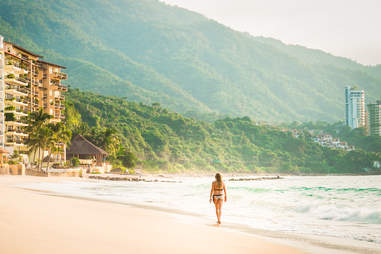 ---
Gringo enclaves: San Miguel de Allende and beach towns such as (but not limited to) Todos Santos, Puerto Vallarta, Playa del Carmen, and Rosarito provide an experience that quite literally caters to foreigners, including a high quality of life. Gringos are the bread and butter of these beautiful places, and their money dictates how life moves. If you want to be in a place where you don't need to know much Spanish nor assimilate in any way to Mexican culture, a gringo enclave is your best bet.
by Megan Frye for Thrillist