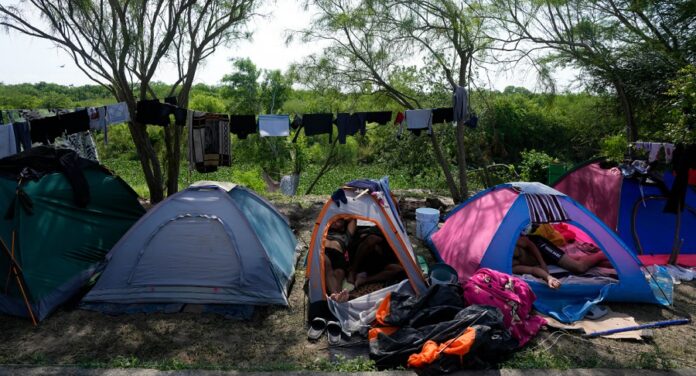 TIJUANA, BAJA CALIFORNIA.- A 98% drop in Venezuelans arriving at the U.S. southern border has helped lead to a steep decline in migrants crossing illegally from Mexico since pandemic-related asylum limits expired last week, U.S. officials said Wednesday.
The Border Patrol has stopped migrants an average of 4,400 times a day since Friday when a public-health rule known as Title 42 ended. The average includes less than 4,000 migrants each of the last two days, said Blas Nuñez-Neto, assistant homeland security secretary for border and immigration policy. That's down from a daily average of more than 10,000 in the four days leading to the end of Title 42.
"We continue to see encouraging signs that the measures we have put in place are working," Nuñez-Neto told reporters, adding on a cautious note, "It is still too soon to draw any firm conclusions here about where these trends will go in the coming days and weeks."
April figures released Wednesday further illustrate how Venezuelans drove much of the rush to the border in the waning days of Title 42. Authorities stopped Venezuelans crossing illegally nearly 30,000 times during the month, up nine times from March.
The Biden administration has been promoting a carrot-and-stick strategy that couples new legal pathways to the U.S. with consequences for those who don't use them.
In the days leading up to the end of Title 42, the Border Patrol stopped 2,400 Venezuelans daily, followed by 1,900 Mexicans and 1,400 Colombians, Nuñez-Neto said. After Title 42, Mexicans replaced Venezuelans as the top nationality at 1,000 a day, followed by 510 Colombians and 470 Guatemalans. The number of Venezuelans plummeted to 50.
There are "early promising signs" that migration through Panama's notoriously dangerous Darien Gap is falling, Nuñez-Neto said.
Migration from Venezuela also plunged in October after Mexico began taking back people from the South American country who were expelled from the U.S. under Title 42, which denied asylum on grounds of preventing the spread of COVID-19. But Venezuelans began arriving again in large numbers just before Title 42 expired, walking for days through Panama.
Source.- OEM