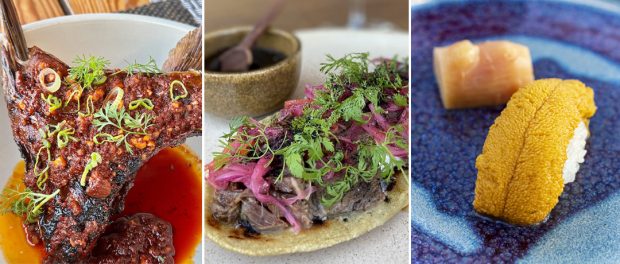 Where to eat now in Baja California's wine country
As the Valle de Guadalupe–Baja California's wine country–continues to grow, diners are faced with more choices than ever on where to eat. When visiting, we tend to enjoy a mix of both the classic Valle de Guadalupe restaurants we've always loved, and the exploration of new spots recommended–or opened–by our friends in the region.
1. Merak
Merak opened in 2022 at winery Vinicola Tres Valles. As is his Sonoran birthright, chef Joel Quintana knows his way around seafood as well as beef. And he prepares both to spectacular result. The focused menu features fresh ingredients prepared in creative ways. "Wings of the sea", is a striking presentation of grilled yellowtail collar in powdered guajillo, peanuts, crilollo cilantro, roasted garlic, fresh ginger, sesame oil, and lemon. 
2. Primitivo
Primitivo captures the essence of Valle de Guadalupe restaurants. Fresh, local ingredients are cooked over wood fire and served under a sprawling oak in a rustic setting. The tasting menu offers a choice of proteins–beef, duck, bluefin tuna, and more–with courses highlighting various parts of the whole-cooked animal. Beef dishes include everything from perfectly seasoned ribeye to luxuriant grilled sweetbreads served with house-made blue corn tortillas and a fiery tatemada salsa.}
3. Baja Omakase
Baja Omakase is the love child of chefs Drew Deckman and Toshi Tsutada, formerly of Sushi Ota in San Diego. Just a short stroll from Deckman's en El Mogor, Deckman's creative seafood presentations are the perfect counterpoint to Toshi's clean, precise, and very traditional edomai style sushi. As is Deckman's premise, only sustainable seafood is used. So don't expect salmon but do expect local yellowtail, sea bass, uni, and shellfish during this unique Valle experience.
4. Malva
Malva's casual palapa vibe belies a menu of refined modern Mexican. Chef Roberto Alcocer prepares what he refers to as "Valle food". A standout is his grilled octopus rubbed with chile de arbol, plated with grits, and finished with swirls of chili sauce and buttered popcorn crema. Salads–a colorful mélange of fresh produce from an onsite garden–are not to be missed. Malva is one of the OG farm-to-table Valle de Guadalupe restaurants and remains one of its best. 
5. Lunario
Lunario, open only for dinner, is accessed via a lit, magical, meandering pathway and stone steps comfortably nestled on the edge of winery Lomita's vines. Chef Sheyla Alvarado serves a sublime six or eight course fixed menu featuring her exquisite interpretation of classic Mexican dishes. The softshell crab taco is served on a tortilla of red corn and pipian (pumpkin seed). The crab, sourced from Veracruz, is sweet, sumptuous, perfectly battered, and gingerly fried.
6. Salvaje
Valle de Guadalupe restaurant Salvaje at Xolo Vino was the surprise hit of last summer. As one of Salvaje's two founding chefs worked under Enrique Olvera for three years at Mexico City's acclaimed Pujol, expect top notch traditional and modern Mexican cuisine. Salvaje's tlacoyo (elongated fried masa) is heaped with savory, slow-braised short rib atop a bed of melted queso requesón. It's finished with pickled onions and cilantro and accompanied by a rich salsa tatemada.
7. Once Pueblos & La Medina
Once Pueblos chef Sandra Vazquez prepares her home state of Michoacán's cuisine in Baja's wine country. The presentation is modern, but it's classic Michoacán "soul food". Their sumptuous mextlapique presents a corn husk filled with grilled shrimp and plump mushrooms bathed in a dense, profoundly rich, and satisfying sauce. Looking for a casual midday meal? Don't miss La Medina, Sandra and her husband Luis Cardenas' al fresco patio next door. 
8. Kous Kous
Kous Kous Del Valle tantalizes with Moroccan cuisine in Mexican wine country. Comfortable and colorful furnishings, décor, tapestries, and large pillows strewn about the floor are reminiscent of a lounge in old Marrakech. Chef owner Moumen Nouri shuttered his popular restaurant of the same name in San Diego and opened in the Valle in 2022. A stellar lineup of tajines–meat and vegetable dishes cooked in earthenware pots–await guests who are greeted with unparalleled Valle views. 
9. Animalón
In 2017, chef Javier Plascencia introduced Animalón—a unique dining experience within the boughs of a 200-year-old live oak on his property at Finca Altozano. Chef Oscar Torres collaborates on an imaginative modern Mexican tasting menu. Though dishes change seasonally, a perennial favorite is the lobster tallerine. Hearty tagliatelle pasta noodles are wrapped around a chunky ragout of local spiny lobster and served in a pool of Mexican crema. It's a highly 'grammable dish. 
10. Damiana & Honokai
Damiana and Honokai are a one-two punch from Mexicali-born chef Esteban Luis. Both are located on the grounds of the exceptional Vinos Lechuza. Damiana is Luis' fine dining proposal. Honokai, open for lunch, is devoted to small plates of hibachi and raw bar items—perfect to enjoy with Lechuza's award-winning wines. Their prepared chocolate clams are served raw on ice and bathed in a broth of tomatillo, serrano, cilantro, cucumber, clam juice, and lime. 
Source: A Gringo in Mexico