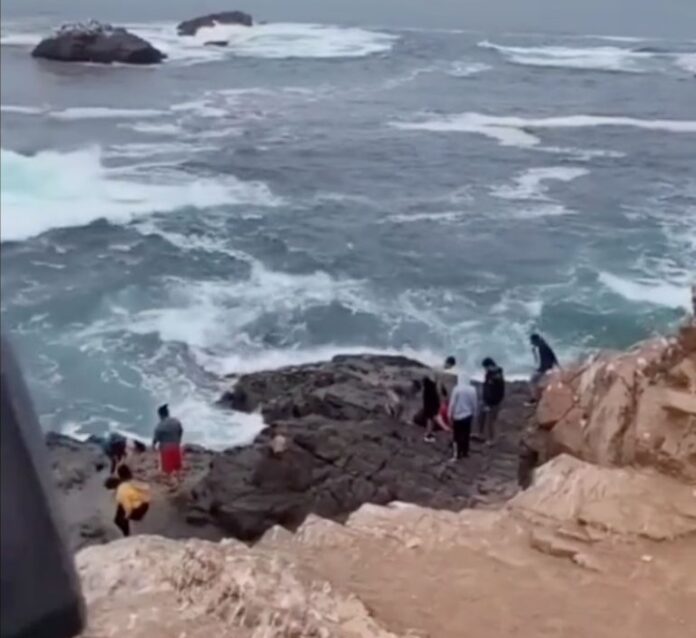 Several witnesses to the terrible accident assured that there were signs warning of high waves
A few days ago, a terrible video began to circulate on social networks and shows the exact moment in which a family and a group of tourists enter a forbidden place between the stones and where the sea breaks in La Bufadora, in Ensenada, Baja California, and the sea swallows them by the strong waves.
In the strong images of the video, you can see how, even though this area had several signs warning of the force of the sea and how dangerous it would be to stop there to take photos, people got in and for a moment they were on the edge of the stones a huge wave hit them, covers and takes several people. Among them, a lady is stranded a few meters from the mainland, others manage to swim to safety, but the sea breaks again and swallows them.
Witnesses assured that there were signs warning of high waves.
Even though the images are going viral on TikTok this 2023, the terrible accident occurred during the 2021 holiday season, exactly on July 31, 2021, for which the local authority explained that the family and tourists who were dragged by the sea they survived.
After the video went viral, the Ensenada municipal authority asked tourists not to put themselves in dangerous situations and urged them to abide by the Civil Protection instructions or signs installed at the La Bufadora tourist center. The authority stressed that in the area of La Bufadora is visited to watch the sea and the natural phenomenon that attracts thousands of tourists every year is clearly delimited.
Source: El Heraldo de Mexico