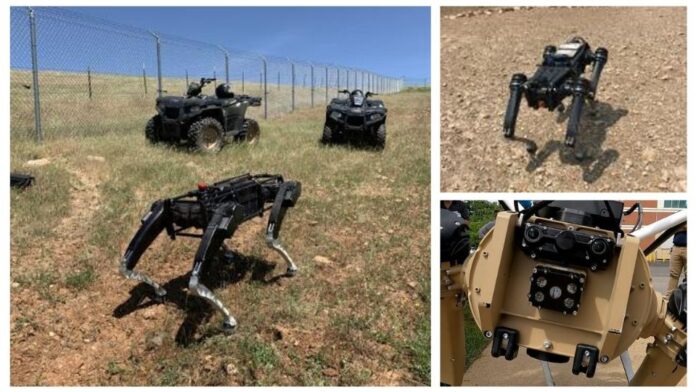 One of the advantages of these robot dogs is that they have the ability to access areas that can be very dangerous for humans or animals.
Robot dogs will be the next bet of the United States (EU) to reinforce its border with Mexico, which is why the US government is currently working on a program to develop new technology to equip the Border Patrol.
The US Department of Homeland Security revealed that the Science and Technology Directorate is currently working on a project to build robot dogs to support border agents in their surveillance work.
An article published by the United States government showed the progress of its Automated Ground Surveillance Vehicles (AGSV) project, with which it seeks to equip the border patrol that operates on the border with Mexico with robot dogs.
One of the main purposes of this project is for this technology to help border agents carry out surveillance tasks in terrain that is difficult to access or that is inhospitable to humans and animals.
This is what these new robot police dogs will look like and everything they can do, which seem to be the ideal companion for Robocop or Terminator.
What do robot dogs look like?
Although the design of these robots is based on that of dogs, there are differences between the two, such as the fact that the robotic version does not have a "head", in addition to the fact that its mobility is considerably less than that of animals.
Each robot dog weighs 100 pounds, equivalent to 45.36 kilograms, has four limbs similar to legs, and is made in three colors: bronze, silver, and black.
In addition, these robot dogs can be equipped with different types of cameras, such as 360-degree, thermal, night vision, zoom, etc., as well as chemical, biological, radiological, or nuclear sensors. 
Another advantage offered by these devices is that they can be remotely controlled by an operator via radio, Wi-Fi, GPS, or other means. 
These new robots are developed as part of the AGSV program, by the Science and Technology Directorate in collaboration with Ghost Robotics, an industry partner.
All terrain dogs
One of the advantages of these robot dogs is that they have the ability to access areas that can be very dangerous for humans or animals, such as terrain that is difficult to access or where they are most affected by inclement weather such as heat or the intense cold.
"It's a tough quadruped robot. It traverses all types of natural terrain, such as sand, rocks, and hills, as well as human-built environments, such as stairs," said Ghost Robotics product manager Gavin Kenneally.
These robot dogs developed by the US government have already successfully passed the first tests carried out with the Border Patrol in El Paso, Texas.
They were tested climbing hills, descending ravines, and walking on rocks, all while carrying 20 pounds (9 kilos) of equipment weight.
In a training facility that was built to replicate a building, the robot dogs worked in a scenario that simulated being greeted by hostile individuals; they were led by an operator using the wireless connection to enter the structure, move through the corridors, look around corners and climb the stairs.
The dogs are also programmed to perform simulated sentry duty. In this autonomous mode, they completed a test in which they drove forward and made turns when they reached predetermined GPS waypoints; after completing their circuit, they returned to base.
Additional testing included putting them to the test in mock inspections on the outside, inside, and under-train cars at rail terminals.