El Saltito is internationally recognized for being one of the beaches in Mexico to record marine bioluminescence on the seashore.
 El Saltito is one of the completely virgin beaches closest to the city of La Paz.
It is located 40 minutes from the capital of Baja California Sur, leaving by road to the community of Los Planes, surrounding the road to Puerto Pichilingue in reverse.
Away from the hustle and bustle of the crowds and the approach of vendors selling handicrafts and products, El Saltito is an ideal coastline for nature lovers who enjoy practicing water sports.
Being so little visited, this beach preserves the flora and fauna that surrounds it almost intact. From its mountains, you can see in all its splendor the bright stars that illuminate its soft sand and incomparable coast every night.
El Saltito is world famous for being one of the few beaches in Mexico to register the phenomenon of marine bioluminescence.
Marine bioluminescence is a chemical reaction occurring within the water, which emits a similar color to the emitting fireflies.
It is generated by a microorganism called dinoflagellate plankton, which, upon perceiving the movement of the sea, produces an intense bluish light. A magnificent visual effect shines the sea, making it a surprising spectacle.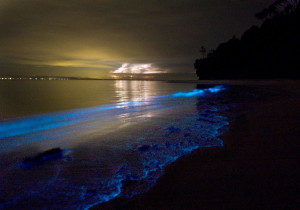 El Saltito, has all the characteristics of depth, nutrients and waves, for this unusual natural phenomenon to happen  On moonlit nights, the bioluminescence that emerges from this beach can be appreciated much better, illuminating the entire sea in electric blue color.
Due to the climatic conditions of the area, from April to December is the best season to live the experience.
El Saltito is one of the must-see stops for national and foreign travelers visiting La Paz. Besides having the opportunity to admire the beautiful landscapes of hills, desert, and sea, it is one of the few beaches within the Mexican Republic, where the phenomenon of marine bioluminescence fully stands out.
El Saltito allows tourists to be amazed by the wonders of nature that only Baja California Sur offers.
Source: metropolimx.com