This benefit is for workers in these areas who work on the front lines of the COVID-19 contingency.
The Government of Ensenada recognized the owners of the Hotel Flamingo's, located in this municipality, as it will provide free accommodation to firefighters and paramedics working on the front lines of the COVID-19 contingency.
Accommodation will be granted free of charge and for as long as necessary, thereby facilitating the transfers of the 16 elements that support emergency care.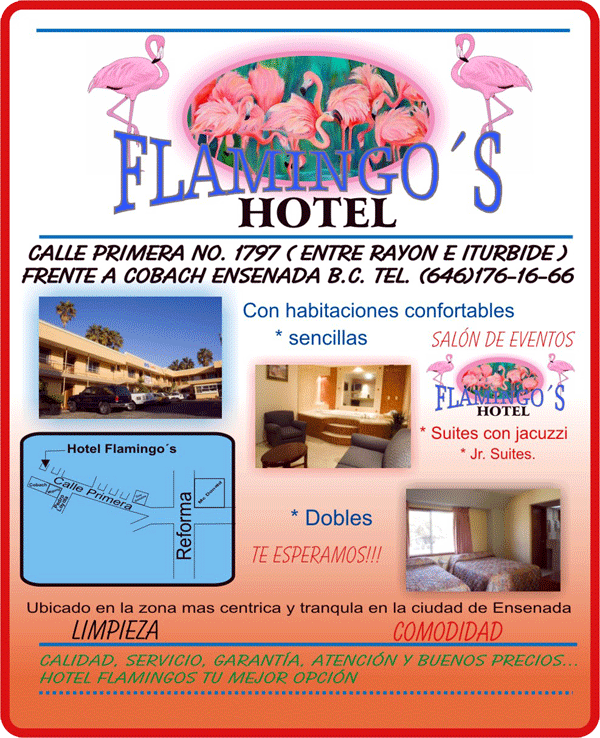 "There are 16 people who, since the contingency began, provide transfer services, eight decontaminate the units; while the remaining eight drive and serve in ambulances ", mentioned the head of Municipal Economic Development, Brenda Mendoza Kawanishi.

Initially, the staff stayed at the Hotel Paraíso Las Palmas, then at the facilities of the High-Performance Center –in Valle Dorado–, and later at a gym located in the Ex Ejido Chapultepec.

However, due to the distance from the city center, the last location in the former Ejido Chapultepec, complicated the mobility of the emergency units; coupled with the fact that in that space there were not all the services for a restorative stay after long hours of work.

That is why, thanks to the location of the Hotel Flamingo's, the staff will be able to rest and move more quickly to requests for help, which fluctuate between 13 and 16 daily transfer services.
Source: sandiegored.com